This post brought to you by Nutrisystem . All opinions are 100% mine.
Are you ready to try a new way to lose weight?  I am too…well, almost.  I'm due to have a baby in a few weeks, then a few weeks after that I'll be ready!  I've wanted to try Nutrisystem® for a long time and I was just about to commit when I found out I was pregnant.  Seriously, I had to call to stop my shipment from arriving.  I was thiiiiis close.  Now that I'm towards the end of my pregnancy I'm thinking about Nutrisystem again.  I'm not wanting to lose weight for selfish and superficial reasons but because I genuinely want to be healthy and have energy to enjoy caring for my family.  While looking into Nutrisystem again I've found that they have a great new program called Nutrisystem® My Way®.
Nutrisystem My Way is tailored to each person's metabolism, supposedly providing the right amount of nutrients and calories needed for success.  How cool is that?  With a science-based algorithm to determine each individual's approximate metabolism rate, Nutrisystem My Way is able to create a customized program tailored to his or her needs.
In addition to the personalized meal plan, people are given specific exercise instructions to help boost their fat metabolism so that they'll burn fat more efficiently.  As time goes on and people lose weight they're encouraged to check in from time to time with a Nutrisystem counselor so that their meal and exercise plan can be adjusted to their changing metabolism.  I don't know about you but that sounds pretty incredible.  I want someone to tell me exactly what to do and when.  I don't want to have another thing to think about, especially with a newborn for care for!
The Nutrisystem Fast 5 is a one week jump-start kit to get you started with a bang.  It's currently being offered for free with the purchase of the new 28-day My Way program and is guaranteed to help you lose 5 pounds in your first week!*  Guaranteed, I like the sound of that. *Results vary depending on starting weight, adherence to the program and other factors. If you're not 100% satisfied, call within 14 days and return the remaining food for a full refund plus return shipping. First order only.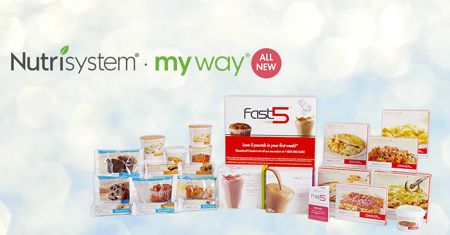 The Fast 5 features 7 breakfasts, lunches and dinners that were specially selected to get your weight loss jump-started. You'll also receive Nutrisystem's great, new shakes that were specially formulated to fight off hunger and boost metabolism.  The Fast 5 week program is designed to set you on your way to the 28-day My Way program more motivated than ever!
Just talking about it has me motivated! What about you, have you tried Nutrisystem before?  If not, do you think you'd like to?