The Fall Fashionista Giveaway Event is hosted by The Chief Blonde at Still Blonde After All These Years and Katy from ModlyChic. All Fashion! Only FASHION event! Largest Fashion Giveaway event on the internet with $26,000+ in prizes, 100+ participating blogs and 3/4 million entries. Each individual blog has a minimum of $125 prize!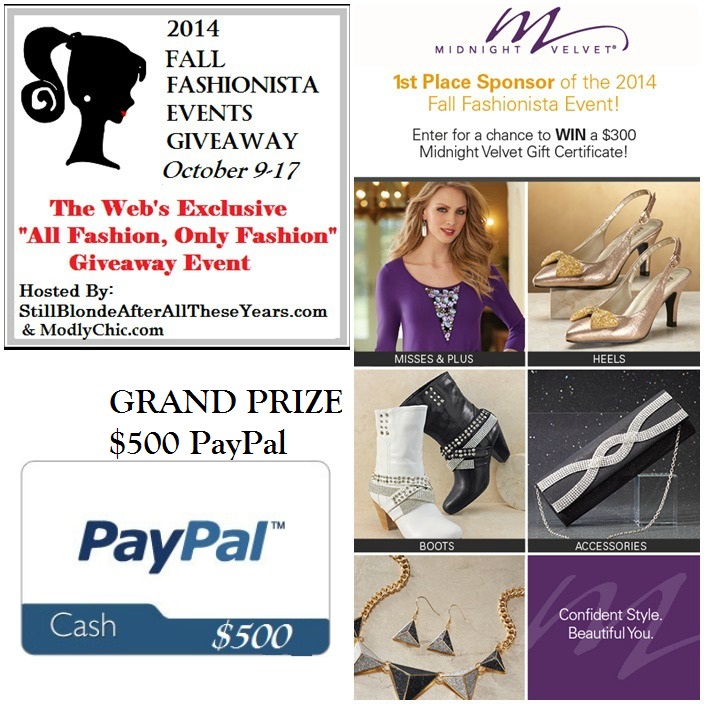 The FALL Fashionista Events Grand Prize is $500 PayPal (worldwide where allowed by law). For every giveaway in the Fall Fashionista Event that you enter, you gain one entry toward the Fall Fashionista Grand Prize. 1 Grand Prize winner will receive $500 PayPal cash. 1 first prize winner will receive $300 gift certificate to Midnight Velvet Clothing.  Fabulous, right?
My prize is a $150 J.Jill gift card and is sponsored by me! Non-USA winners can choose either $150 Amazon.ca Gift Code or $150 Paypal.
Update: After 377,589 entries, we have a winner! Diane E. Congrats, Diane!
Still Blonde after all these YEARS , ModlyChic, Fall Fashionista Events Giveaway and the Fall Fashionista Events Giveaway bloggers are not responsible for sponsors/bloggers that do not fulfill their prizes or for any product failure or harm caused thereby.