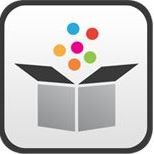 I buy a lot online.  I order Christmas gifts, books, beauty products, diapers, and so much more.  I'm order from a lot of sites and I visit Amazon at least weekly.  While I find this way of life very convenient I also dislike the way my inbox is full of order notifications, shipping confirmations, and unwanted subscriptions because of my purchases.  I've went to great lengths to keep my inbox "junk" to a minimum so these extra emails bug me to pieces.  Well, today I just learned about a new app for iPhonesand Droids that I'm pretty excited about!  It's called Slice and it pulls together all the purchase and shipping info from my email inbox and stores them in one location.  Here's a little of what it does more in detail:
Track Packages – Get push notifications when a package is shipped, has been delivered, and you can even track your packages on a fancy map.
Price Drop Notifications – Slice will send you push notifications when the price drops for one of your purchases so you can recoup the difference!  HOW COOL IS THAT?!
Recall Notifications – Get automatic updates when a product you purchased is recalled!
Organize Purchases – You'll get back up email receipts to facilitate returns, exchanges and warranty claims.  Don't you just love that?  Plus, you can keep track of your Groupon, LivingSocial, Bloomspot, Amazon Local and Gilt City vouchers.  I hate when I forget to redeem a daily deal purchase and now I don't have to worry it anymore!
Now for the giveaway!  This giveaway is in conjunction with other bloggers and is organized by The Art Of Random Willynillyness.  Other rules and details can be found here.  Enter via the Rafflecopter below.  Good luck!
a Rafflecopter giveaway