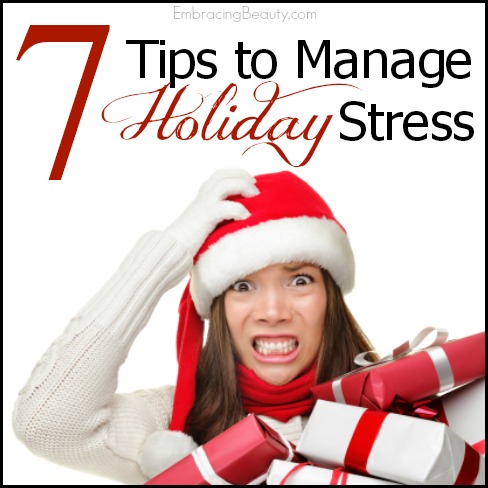 'Tis the season to be merry…… and stressed!   Sometimes the holidays can make us feel more tangled up than the lights on the Christmas tree, but holiday stress does not have to be our fate.
For those who aren't fans of the Christmas season, the hustle, bustle and emotional rustle this time of year brings can elicit some overwhelming feelings, including irritability, loneliness, the blues, and even depression.
For those who love the holiday season, those same feelings can still secretly weave themselves into our spirits, as busyness, shopping, planning, wrapping, cooking, family challenges, and unmet expectations take their toll on our hearts.
The holidays often bring on this flood of heightened emotions which varies in intensity from person to person, and often results in dangerous stress levels.  In the same way that stress from every day trials can be detrimental to our health, holiday stress – even if only for a couple months – can threaten to inflict the same harm.
Last year the APA reported that nearly all women in the US experience such heightened stress during the holidays that their health is put at risk, and that 41% of women use food, and 28% of women use alcohol, to curb the pain of their holiday stress. These statistics are alarming and heartbreaking and serve to remind us that holiday stress is not something to be ignored.
Fortunately, we can be proactive in preventing the negative impact of holiday stress by following a few simple suggestions and intentionally making Christ the focal point of all we do this season.  Below are 7 strategies to keep in mind to avoid letting holiday stress steal your joy, squelch your Christmas spirit, or damage your health.
     1. Plan for your stress.
You are probably well aware of the holiday stressors that push you to the limit, so why wait until they happen again to try to figure out how to handle them?  For example, if decorating makes you stressed, invite friends or family members to help out and host a decorating party with light snacks and beverages.  If baking goods for the PTA bake sale makes you feel burdened and stressed every year, give yourself permission to sit out this year out. If a family function is always challenging, pray for God's divine intervention in dealing with family conflict this year.  Being proactive in making plans for dealing with common holiday stressors is a great stress reducer.
     2. Pursue a positive attitude.
Whether the holidays are our favorite time of year or not, we still need to pursue a loving, Godly attitude in the midst of the chaos. If we let crowds and traffic put us in a bad mood, we'll take it out on our family later. If we allow obligations to stretch us thin, we'll be too busy to enjoy the season. If we focus on all the negative aspects the holidays may bring, we will lose sight of the fact that we are really celebrating the birth of Jesus. Our attitudes and our thoughts will carry us to a destination of a joy, or a destination of bitterness and grumpiness.  If you struggle with a Grinch attitude every year, ask God to help you pursue a new attitude for this season, and experience real joy in Christ.
     3. Purposely get enough sleep.
If you want to be able to stay in a good mood during the holidays, don't forget to rest! Sleep deprivation has a serious negative impact on our moods and our ability to manage even small levels of stress. Commit to getting to bed at a decent hour and getting a good night's rest as often as possible.
     4. Party sensibly.
Even though being at every holiday party we are invited to makes us feel and look like social butterflies, all that party-going might leave us bound up in a cocoon of stress.  Choose your social events selectively, and only attend those which are most important to you.  Stand in front of a mirror and rehearse a gentle and polite response to share when someone invites you to a function that you know will not fit into your schedule
     5. Prepare a routine for the month of December.
Think about all the things you usually have to do around the holidays, jot them down on a list, and set a daily schedule for each day in December for fulfilling them, while being sure to include a target deadline for each thing. Write out your gift list, gift suggestions, budget, social outings, travel or packing needs, shopping availability, babysitting needs, special events you cook for, grocery lists, etc. This might sound compulsively organized, but it will be time and effort well spent, because good planning sets the stage for peace.
     6. Practice fun. The holidays are supposed to meaningful and fun, so why do we let busyness and chaos steal the joy and fun from our hearts?  Think about some ways you can have fun with your family or friends this year and make a commitment to follow through with them. Keep in mind that sometimes the best entertainment is cost effective, like watching movies at home or riding around looking at holiday lights and decor.
Promote love.
Our inward thoughts will always drive our outward actions, so if we want to show love during the holidays to family, friends and total strangers, we first have to focus on feeling God's love. Although every person faces different adversities in life, we can all enjoy the Christmas season if we remember that Christmas is really about celebrating God's love for us. If we bicker and complain our way through the season, our holiday spirit will exit quicker than Santa up the chimney. But if we focus on the fact that we are supposed to be celebrating peace, joy, and love, our Christmas spirit, our faith, and our love for others will soar. When our hearts are full of love, it's hard to be a Grinch.
Unfortunately, Christmas can leave us feeling as tattered as the ripped up wrapping paper strewn around a living room floor on Christmas morning. A little holiday stress preparation can be the determining factor in whether your holiday is joy-full or stress-full, and when our hearts at peace our holidays can be too.
Tracie Miles is a national conference speaker and author with Proverbs 31 Ministries. She is the author of Stressed-Less Living: Finding God's Peace In Your Chaotic World and is a contributing author to Proverbs 31 Ministries Encouragement for Today daily email devotions,  Encouragement For Today: Devotions for Everyday Living, and the Zondervan NIV Women's Devotional Bible.  Tracie has a new book being released September 2014 titled Your Life Still Counts.  She lives in Charlotte, NC, with her husband of 23 years and her three teenage children.  Get connected with  Tracie on her blog, Twitter, Facebook and Pinterest.
Enter to win a set of Tracie's Managing Holiday Stress Conference Calls!  
Tracie is hosting a conference call series this season through Proverbs 31 Ministries called Managing Holiday Stress . Click here for detailed information about the two calls, taking place on November 25th and December 10th, and how to join in the fun on her three live Facebook parties which include lots of fun holiday giveaways!
 To enter to win a set of Tracie's conference calls, enter via the Rafflecopter below. 
This giveaway will end on Nov. 25, 2013 at 9 am EST and the winner will be contacted and announced shortly after.  Open to US residents 18 years and older.  If you have any questions feel free to contact me.  Good luck!