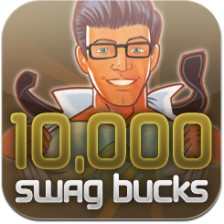 I'm excited to be partnering with Swagbucks to give away a $100 in Swagbucks (10,000 Swagbucks to be precise)!  We'll be giving these codes away to three lucky winners after the giveaway closes on Saturday, April 20, 2013 at 1pm EST.  Shore Savings with Patti, Family Centsability, and  Coupon Crazy & Freebie Fanatic are helping me promote this giveaway and  drum up extra excitement over it so stop by their sites and say hi!
Free 100 Swagbucks to new members:
Anyone new to Swagbucks can use my exclusive sign-up code BEAUTY70 will get an extra 70 Swagbucks in addition to the 30 they'll get for just completing their profile.  That's 100 free Swagbucks to start you out on the right foot!  A $5 Amazon gift card is only 450 Swagbucks!  This code expires on April 20, 2013  at 11:59 pm PST so sign up now and start turning your searches into free gift cards.  You can only enter this giveaway once per person but there are certain entries you can do daily – such as tweet about the giveaway!  To read more information on Swagbucks check out my Get Paid to Search post.  Ready to sign up now?  Go here to Swagbucks to sign up and click on the text that says "I have a sign up code," enter your code BEAUTY70, complete your profile, and voila, you are on your way to earning free gift cards!
What we're giving away: 
– One grand prize winner will receive 5,000 Swagbucks (Can be redeemed for a $50 Amazon gift card)
– Two runners up will receive  2,500 Swagbucks each (Can be redeemed for a $25 Amazon gift card)
I'm excited about giving away
Swagbucks
because I like that the winners can choose what they do with their Swagbucks.  If you win you could play games, Swagstakes, take advantage of Swagbuck's Local Deals, or buy a gift card in the Rewards Store.  If it were my I would probably buy Amazon gift cards!  What will you do with your Swagbucks if you win?
Enter via the Rafflecopter form below and feel free to contact me if you have any questions.  This giveaway is open to anyone 18 years and older.  You must be a Swagbucks member to enter but not necessarily a new Swagbucks member!
Good luck and check back for the winner's announcement next Sunday!