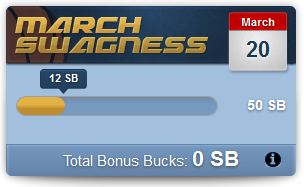 Update!  I have a special 70 Swag Buck sign up code for those new to Swagbucks! Meaning you'll be able to start with 100 free Swagbucks! ($5 Amazon gift card is only 500). The code is MARCHSWAG and it must be entered during registration! The code is now live and will expire at 11:59pm PT on April 2nd. Enjoy!
It's that time of year again – March Swagness!  Nope, you read that right and it's not a typo.  March Swagness!  It's a way for you to earn even more Swagbucks.  I just love Swagbucks' fun promotions, don't you?  You can keep earning points like you're already doing (by searches, daily polls, etc.) but this is an opportunity to earn even more points on top of those!
Each day their homepage will have a new earning goal for the day (todays was 70).  As you earn more bucks your meter fills up and then when you hit your bonus you'll get extra points!!!  The bonus points will always be 10% of the daily goal.  This is a really simple, simple way to earn extra points!
If you are not sure what Swagbucks is about, trust me and sign up then check out Swagbucks 101!  Now is the best time to get started earning free gift cards!!