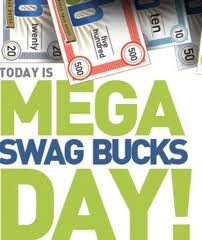 This is your weekly reminder that today, Friday, is Mega Swagbucks day!  This is when you can earn even more Swagbucks.  Be sure to sign up if you haven't already and do all of your internet searches via Swagbucks.
Each Friday is Mega SwagBucks Day, which means better odds of winning BIG SwagBucks denominations!  You can earn up to 10,000 in one search!  10,000 = 20 $5 Amazon gift cards = $100 Amazon gift cards!!!!  Use Swagbucks as your search engine and you'll be rewarded with points!
Be sure to join EmbracingBeauty on Facebook where I share how to get free codes for extra Swagbucks!