Post sponsored by Lunchbox. Opinions are 100% my own.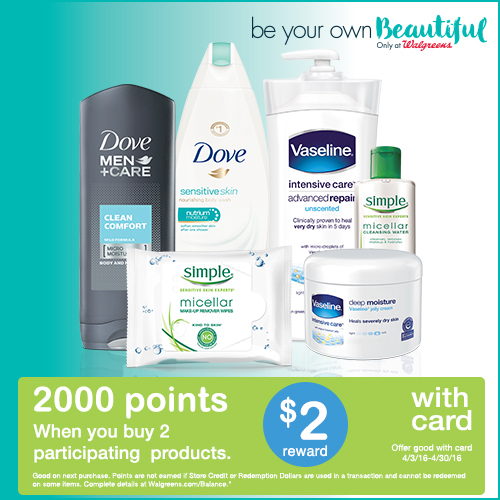 Some of my favorite brands are on sale at Walgreens during the month of April – Dove, Simple, and Vaseline. These are some of the brands that make me feel great, and they can help you feel beautiful from head to toe, too!
During the Be Your Own Beautiful event this April, you can stop at the beauty counter at your local Walgreens to test out select skin care products and pick up coupons. Plus, you can get 2,000 Balance Reward Points ($2 reward) when you purchase any 2 participating Dove Personal Wash, Dove Men+Care Personal Wash, Simple, or Vaseline products through 4/30.
Here are some of the coupons and samples to look for:
Samples of Dove Revitalize Body Wash
In-store testers of Simple Micellar Wipes and Vaseline Intensive Care Advanced Repair Lotion
Tear-pad coupons for $1.50 off 1 Dove, Vaseline, or Simple skin care products
$1 off 1 coupon for Dove, Dove Men+Care, Vaseline, or Simple skin care products (see your beauty advisor for coupon)
Some of the products highlighted in this event:
–  Dove Sensitive Skin Body Wash – "Provides softer, smoother skin after one shower"
I would have to agree with this as Dove Sensitive Skin Body Wash is a product I have been using for several years. My dermatologist recommended it in college as a way to combat my dry skin while avoiding sensitivity issues. It is still my go-to body wash, 10 years later!
Benefits: Hypoallergenic, improved lather rinses cleanly and quickly, #1 dermatologist recommended
–  Dove Men+Care Clean Comfort Body Wash – "Hydration for Healthier, Stronger Skin"
Benefits: Ultra-light formula rinses easily and cleanly. For best results, use with Dual Sided Shower Tool.
Dove Men+CARE Body Wash hydrates with Micromoisture for healthier, stronger skin and rinses off easily, leaving skin feeling comfortable and refreshed.
–  Vaseline Advanced Repair Pump – "Clinically proven to moisturize to heal very dry skin in 5 days"
Benefits: Relieves even stubborn dry patches, appropriate for sensitive skin, absorbs fast for a non-greasy feel.
–  Simple Micellar Water – "Our most advanced yet gentle cleanse"
Benefits: An effective yet gentle cleanser, instantly boosts skin hydration by 90%, removes makeup and unclogs pores, no rinse required.
–  Simple Micellar Water Wipes – "For makeup free, instantly hydrated skin"
Benefits: Removes makeup and instantly hydrates, unclogs pores, gentle cleanse, no residue.
Contains micelles, smart cleansing bubbles which attract and gently lift impurities and makeup out.
–  Vaseline Deep Moisture Jelly – "Instantly increases skin's moisture by 250%"
Benefits: Infused with Vitamin E, keeps skin moisturized for 18 hours, suitable for people with eczema and sensitive skin. Great for especially dry areas like hands, elbows and heels.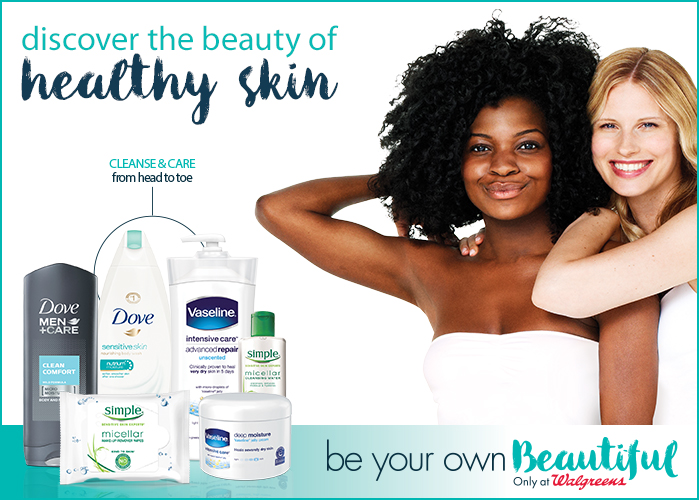 Certified dermatologists Dr. Nussbaum and Dr. Luftman have provided some tips to keep your skin in tip top shape:
"Seriously, your skin care routine doesn't have to be complicated. In fact, sometimes simpler is better. All you need in the morning is a gentle cleanser and a moisturizing lotion with SPF (yep, even on cloudy days). Then, wash away the day with that same gentle cleanser and a moisturizer before bed. To round out your routine, add in facial wipes with micellar water for those in-between touch ups and a twice-weekly exfoliating cleanser. See? It really is that simple."
For more tips from certified dermatologists Dr. Nussbaum and Dr. Luftman, visit: Walgreens.com/BeYourOwnBeautiful
Now who is ready for a giveaway??? 
I'm giving away a $50 Walgreens gift card!  To enter, go to Walgreens.com/BeYourOwnBeautiful then come back here and comment what product you would like to try or what healthy skincare tip you found to be most important to your skin. Good luck! The giveaway ends June 1, 2016.  See all the giveaway details here.
Offer Details: *at select stores, while supplies last. Valid 4/1-4/30/16.