This post is sponsored by Dove Men+Care and The Motherhood. #RealDadMoments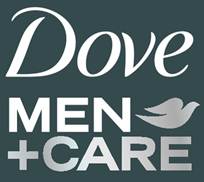 I love Father's day!  That's probably because I had wonderful men in my life as I was growing up.  I loved spending time with my grandpas and my dad.  I would do anything to spend time with them.  "Dig" a ditch? I gave it my all!  Chopping wood?  I would carry the chopped wood to the pile.  Anything and everything to spend time with them.
Now that I'm married to a dad I think I love it even more!  Watching my husband cuddle with my kids when they are sick, spend his evenings playing puzzles and blocks, and every evening reading them books before bed is heartwarming.  My daughter has the best daddy, I'm confident!  She would agree too!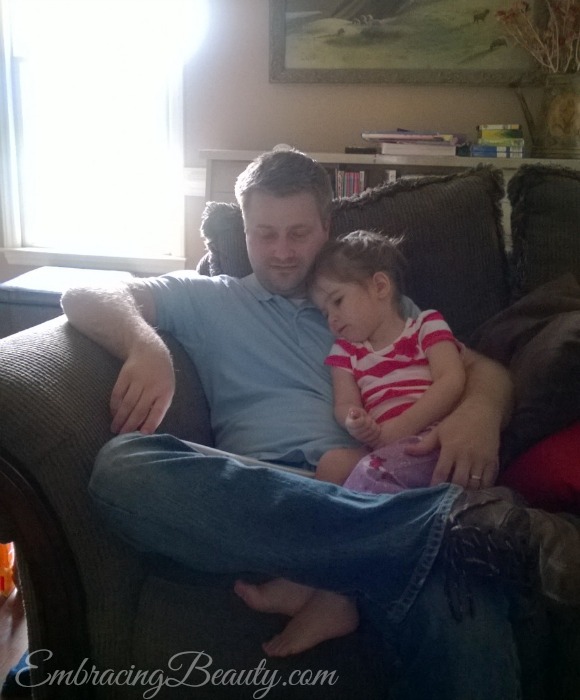 I took this snapshot this evening while they were watching YouTube videos of their latest musical obsession, Justin Roberts.  Aren't they sweet together?
I appreciate my husband being involved in their lives.  I know appreciate really isn't the word I'm looking for but I am …immensely grateful for him.  He knows what they like, dislike, and how their day went.  It's such a blast sharing parenthood with him.  For instance, today I got a laugh when my daughter told me the lunch that I prepared, pizza sauce and cheese on bread, was "pretend pizza."  To you that probably isn't funny but to us it is because we've been watching her learn what it means to pretend this week.  It's fun knowing someone else cares about the little details of their lives like I do.
Dove Men+Care is committed to portraying how real men and dads care for their children New Dove Men+Care research reveals a disconnect between the media's representation of father's roles and how fathers actually see themselves:
– Three quarters of dads say they are responsible for their child's emotional well-being, while only 20% of dads see this role reflected in the media
– Only 13% of dads believe the media portrays fathers as responsible for childcare
– 3 out of 5 dads say the media portrays them negatively (61%!)
Those are some pretty sad statistics, right?
The Dove Men+Care has created a 'Calls For Dad' film that spotlights the expanding and often unrecognized ways fathers care for their children:
– Nearly all dads (97%) say they are involved in their child(ren)'s life and 7 in 10 see themselves as highly involved
– An overwhelming majority of dads (94%) prioritize their families over their careers
– Dove Men+Care understands that dads' role as caregiver is often unrecognized and is sharing real, authentic moments of care just in time for Father's Day
– Features real dads and their kids
I think Dove Men+Care did a phenomenal job in creating this video.  You can view it below.

Dove Men+Care celebrates men who know that more care is better.  They have a whole line created JUST for men!  Surely, ya'll knew that though, right?  It's pretty great…or so I'm told!
Body Wash (Skin Care Built In)
– Dove Men+Care Body Wash is clinically proven to fight dry skin better than regular men's body wash
– Formulated with ultra-light MICROMOISTURE technology, a unique gel technology, that activates on skin during lather to guard against discomfort
Body Bar (Skin Care Built In)
– Dove Men+Care Body Bar is clinically proven to fight dry skin better than ordinary bar soap
– Uses Dove signature ¼ moisturizing cream to boost the skin's natural moisture barrier, which works to replenish moisture in the skin's outer surface layer
Share your family's #RealDadMoments with Dove Men+Care:
Follow Dove Men+Care on Twitter
Follow Dove Men+Care on Instagram
Like Dove Men+Care on Facebook
Subscribe to Dove Men+Care on YouTube
Visit DoveMenCare.com
Enter below to win a Dove Men+Care prize pack! Good luck!
a Rafflecopter giveaway