I'm excited to briefly tell you about my trip to a five star, top of the line, LUXURY vacation!  A few years ago my husband and I went to The Greenbrier.  This place is nice!  I mean, twenty-six U.S. Presidents have stayed here through the years so it's bound to be good, right?  It's unbelievably beautiful, relaxing, full of history and updated with the latest modern conveniences.  Here are a few of the pictures from our trip: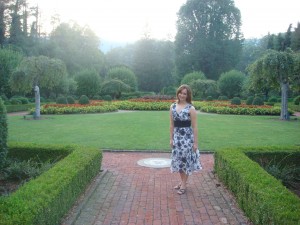 This is a picture Mike took of me on our way to dinner.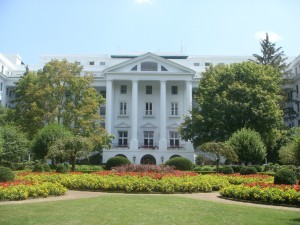 Even the outside is beautiful!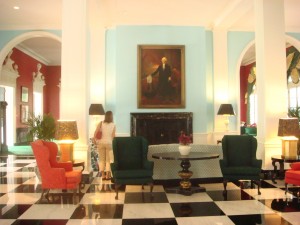 If you like Downton Abbey then you would adore this place!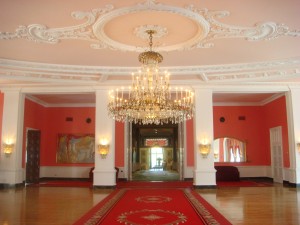 Stunning!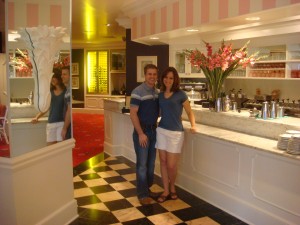 Getting some ice cream.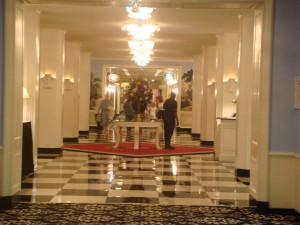 Chandelier after chandelier.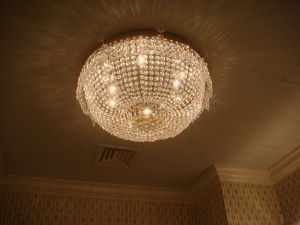 There was even one in the bathroom! (I couldn't help but take pictures in there)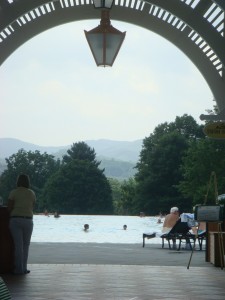 Their infinity pool was breathtaking.
The Greenbrier is beautiful but it's also packed full of rich history.  In the late 1950s the government assigned a hidden section of The Greenbrier to be build for a secret emergency relocation for the house congress in the aftermath of a nuclear holocaust.  This was built at the same time as an extra above-ground addition to the hotel was being built.  This bunker was kept stocked with supplies for 30 years but never had to be used.  The secret came out about The Greenbrier's hidden bunker in 1992 and is now open for tours.
I could go on and on but the reason I'm telling you all this is because I found a phenomenal deal for The Greenbrier!  Ever since I  saw this deal this morning it's all I can think about.  I have great memories from our trip there and would love to return back there someday.  Right now you can get a two nights stay for $430.  When we stayed there we paid around $700 a night.  This is a DEAL!  If you're interested, go to LivingSocial now for all the details!