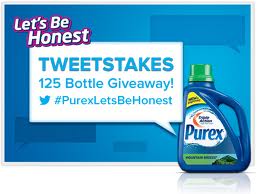 I am excited to announce a new sweepstakes, well a Tweetstakes to be exact, that you can enter to win a free full-size bottle of Purex.  I am a Purex Insider and quite a fan of their products.  If this is a new brand to you this is a great time to try a bottle for free or if you love Purex this is a great opportunity to save money on your laundry costs!  Either way, it's a win-win!  …but you have to play to win. : )  Here are the details:
What is a Tweetstakes?
It is a Twitter-only Sweepstakes. They're giving away 25 Bottles of Purex Triple Action liquid laundry detergent for 5 days – That's 125 winners!
How can you win?
Visit www.purex.com/tweetstakes to sign up. Fill out the form, tweet an honest confession with hashtag #PurexLetsBeHonest and the promo URL, then Follow Purex on Twitter to see other's confessions!  For extra entries you can do this daily!  Oh, and while you're there, don't forget to follow Beauty4Moms on Twitter!
When?
It's going on right now! The promotion started yesterday, July 17th, and will end this Friday, July 20th.
Good luck!
You may also be interested in the iPad giveaway going on now that ends August 1, 2012.