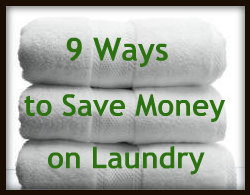 While I can't eliminate laundry from your to-do list, I can help you save money on laundry with these frugal laundry tips.  Laundry can be as expensive or as inexpensive as you want it to be. Not all tips are right for every one; just choose the ones that will work for you and enjoy lower utility and laundry supply bills!  Here are 9 different ways to save on the cost of doing laundry, ranging from quick and easy to long-term solutions. Enjoy!
1. Buy Energy Star rated appliances. That Energy Star emblem means they use less energy therefore it will cost you less to use. When replacing old or worn out appliances, check for the Energy Star rating when making your replacement choices.
2. Cut dryer sheets in half. One box lasts twice as long when you cut the sheets in half. As soon as you buy the box, break out the scissors and cut your dryer sheet expenses by 50%! Or you could use each dryer sheets twice, this works just as well with less work!
3. Use correct amount of laundry detergent. Be sure to read and follow the recommended amount of detergent for your size load. Detergent caps are misleading! Often they will have 4 or 5 lines but only require detergent for the first line or maybe the second for a large load.
4. Use less detergent and liquid fabric softener. You can usually get by with using only half of the recommended amount without sacrificing performance.  Give it a try!  This works great even on heavily soiled garments.
5. Clean the lint trap before every load of laundry. A clean lint trap lets your dryer work more efficiently and dry clothes faster. Spend an extra 20 seconds and empty it before you start the dryer. Every 3 months scrub your lint trap with soap and water to eliminate invisible dryer sheet residue. Your dryer will run more efficiently and a clean lint trap cuts down the risk of a dryer fire!
6. Line dry your clothes. Hang items to dry outside or inside over store bought racks. Personally, I don't use a dryer for undergarments (they'll last a lifetime longer and hold shape better if you don't!), nice shirts or sweaters, & t-shirts with large print on them (they will crack & look older faster if you dry them).
7. Do less laundry. Wear jeans several times before washing, use bath towels more than once (change wash cloths daily). Sweaters and jackets easily be worn more than once if you wear them layered with a shirt underneath. Make sure you hang up clothes that can be worn again so that they're not wrinkly or washed by mistake.
8. Dry loads back to back if possible to keep the dryer from heating up again (save time and energy).

9. Wash in the coldest temperature recommended for your clothes. Save your water heater energy when possible. Cold water temperatures are proven to clean just as well as hot and will also help to preserve the fibers of your clothing so it won't wear out as fast.