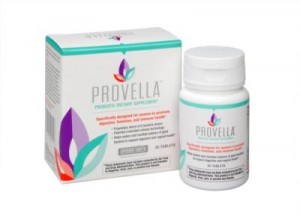 My little girl is over a year old now and I've been trying to focus on taking better care of myself.  I haven't neglected my family, by any means, but I'm trying to purposefully care about/pamper/better myself.  That's a good thing, right?  I've been trying to lose weight, get more sleep, drink more water, and slow down and enjoy life.  A few weeks ago I was added Provella to my diet and it has made a pretty big change.
Provella is a probiotic dietary supplement that was specifically designed for women.  Provella knows moms are busy and often have a lot on their plate.  They've combined a unique blend of beneficial bacteria that will promote feminine and digestive health and boost the immune system.  That means that it will help keep moms healthy and energetic for all the duties that come with being a mom.
I've been taking Provella for just over two weeks now.  At first I didn't notice any difference but I stayed with it and lately it's been pretty great.  I don't want to get into details because that's just not my personality but I will say that things have been working regularly lately.  No upset stomach, no reaching for a bottle to deal with the pain, it's great.  I haven't exactly noticed an increase in energy but remember that I have the sleep disorder hypersomnia and that could account for the lack of extra energy.
Provella is available over the counter so you don't need a prescription to get started!  It's available at retail pharmacies nationwide and is also available on drugstore.com.  PLUS, if you're interested in getting started right away I have a coupon for you!!!  A $6 Provella coupon to be exact! Provella is designed to help promote digestive, feminine, and immune health.  What's not to love?  For more information about Provella please watch the video below.  Oh, and men can take it too!
Disclosure: "I participated in a campaign on behalf of Mom Central Consulting for Provella. I received product samples to facilitate my review and a promotional item to thank me for participating. These statements have not been evaluated by the Food and Drug Administration.  This product is not intended to diagnose, treat, cure, or prevent any disease."