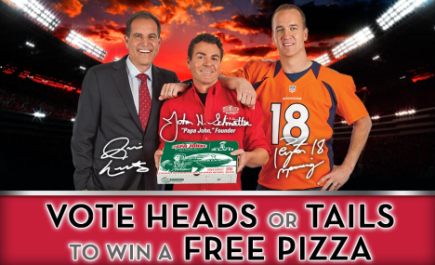 The Official Pizza Sponsor of the NFL and Super Bowl XLVII announced the details today of Papa John's Super Bowl XLVII Coin Toss Experience.  This year it will include a new twist!  Each fan will vote "heads" or "tails" as individuals at papajohnscointoss.com  or at Papa John's Facebook page.  The ones who correctly guess the Super Bowl coin toss will be awarded one free large topping pizza.
"Unlike last year when everyone who voted was cheering for 'heads,' this time people tuning in will be cheering for either 'heads' or 'tails,' depending on how they called the coin toss individually," said Denver Broncos quarterback Peyton Manning, who unveiled the promotion in a television commercial that debuted Sunday with Papa John's Founder, Chairman and CEO John Schnatter and sports commentator Jim Nantz, who will call Super Bowl XLVII. "This should make it even more fun, and it guarantees that Papa John's will give away more pizzas."  We agree with Peyton, we love this promotion!!  Good luck!
No purchase is necessary and only legal residents of the 50 United States (D.C.) 13 and older may be eligible to receive a prize.  Void where prohibited.  Voting takes place from 1/20/13 to 2/2/13. For Official Rules, visit www.papajohns.com.
If you like nail design check out my Super Bowl Nail Art!