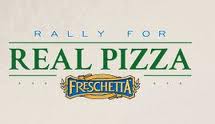 Frozen pizza shouldn't simply taste better…it should be better. Freschetta frozen pizzas are made with top-quality ingredients and taste-tested recipes, just to make sure your pizza will always deliver "Fresch" flavor.
I love Freschetta pizza!  They have a lot of flavor, a good crust, and of course they are super convenient.  Right now you can join Freschetta's Rally for Real Pizza by submitting a photo to the Rally Mosaic on Facebook.  Each week they will select 100 winners — to each receive 5 free Freschetta pizzas.  On March 30, they will also select 10 winners – to receive free Freschetta Pizza for a year!
Don't forget to come back and tell us if you're a winner!
Disclosure: I occasionally receive compensation in the form of products for posts. However, the opinions I share are solely my own.