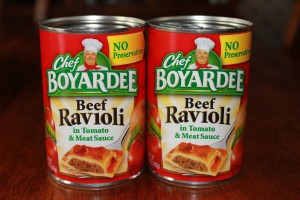 As a kid I LOVED Chef Boyardee.  I loved their pizza (still do!) and occasionally I got their ravioli as a special treat for dinner.  Even though I now have kids of my own I still enjoy their food.  As a busy mom, who likes simple, healthy meals I was excited when when Mom Central asked me to be a part of their latest Chef Boyardee campaign.
They sent me a huge box full of items to help me prepare a Chef Boyardee party.  It included a a bunch of colorful nesting mixing bowls, a Curious Chef measure and prep kit, Le Creuset bakeware, Chef Boyardee coupons and some fun Chef Boyardee brand goodies (matching aprons, a chef's hat, & notepads).  We had just about all we needed for a great dinner party!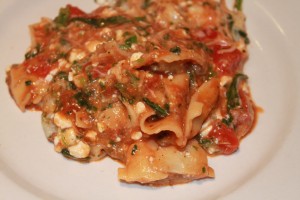 In one dish we made the Ravioli Lasagna.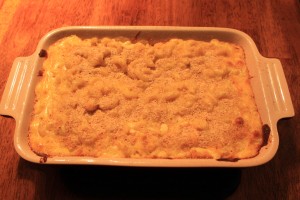 In the other we made my own creation.  It was Chef Boyardee's Beefaroni covered with my favorite baked macaroni and cheese recipe.  It was yummy!
I have to say that I love Chef Boyardee recipes because they are so simple to make!  Both recipes were a huge hit with everyone who was over that night and I know my family can't wait to try some of the other Chef Boyardee recipes.
Enter to Win FREE Groceries for a Year!  Here's how:
Enter the Make it Boyardeelicious Recipe Contest on the Chef Boyardee Facebook page for a chance to win a grand prize of free groceries for a year.
Now through March 11, 2012, submit an original recipe that uses Chef Boyardee as an ingredient (anything your mind can dream up!), upload a photo of your recipe, and about share why your family loves it.  Each week there will be a winner chosen based on creativity, all-family appeal, ease of preparation, and palatable appeal by an expert of panel judges.Those winners will get $500 as well $75 in Chef Boyardee coupons. If you don't win one week,  you can re-enter again the next week.  At the end of the promotion one of the 10 weekly winners will win the GRAND prize – free groceries for a year! I don't know about you, but I would LOVE to win free groceries for a year!!!!  The winner will be chosen based on taste points and votes.
The voting period lasts March 26-April 8, 2012. Don't forget to check back to vote because voters get entered into a daily sweepstakes for the chance to win $100. 
For more information, visit www.chefboyardee.com. You can also find Chef Boyardee on Facebook. {Don't forget to follow Embracing Beauty on Facebook too!}
"I wrote this review while participating in a In Home Party campaign by Mom Central Consulting  on behalf of Chef Boyardee and received product samples to facilitate my party and review, and a promotional item to thank me for participating."