Chef Boyardee is a name my family is familiar with.  Before we were married my husband use to eat cans of Chef Boyardee pretty regularly.  I can even remember eating them as a kid.  Since we've been married we've been a huge fan of their pizzas!  I've talked to so many people who have never heard of Chef Boyardee pizzas and I can't hardly believe it.  If you're one of those people who've never tried one, go to Walmart this week and buy one.  Make sure to buy an extra bag of cheese, pepperonis, and other toppings too!  Where was I?  Oh yes, we love Chef Boyardee.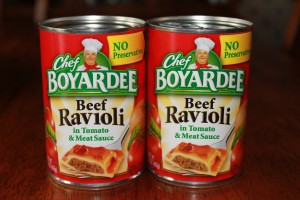 Even the best cooks get burnt out at times, right?  From first hand experience I can tell you that moms with newborns love a quick meal!  I'm sure we could all name a list of things that make dinner preparation difficult at times.  Chef Boyardee knows this and has created quick and easy recipes that are "almost homemade" to help us out.
Tonight my family tried out the Ravioli Lasagna recipe and we liked it!  My husband was a bigger fan than I was.  He loved it because it tastes so similar to the plain cans of Ravioli that he loves.  It was a little too runny for my taste.  I guess I'm use to homemade lasagna that stands up when you cut it.  This is a great quick and healthy meal to serve to kids for lunch or dinner.  I'm not opposed to eating it again but on a scale of 1-5 I would give it a 3.  I loved the simplicity of the preparation and how quick it was to bake.  It only took 6 ingredients and 30 minutes.  I'm anxious to try out another Chef Boyardee recipe soon!
Nutrition Information:
Serving size – 6 servings (1 cup each)
Calories – 240
Ingredients:
PAM® Original No-Stick Cooking Spray
1 cup frozen loose cut leaf spinach
2 can (15 oz each) Chef Boyardee® Beef Ravioli
1 can (14.5 oz each) Hunt's® Diced Tomatoes, drained well
1-1/2 teaspoons dried Italian seasoning
1 cup 1% low-fat cottage cheese
1/2 teaspoon ground black pepper
1 cup shredded Italian blend cheese
Directions:
Preheat oven to 375°F. Spray 8×8-inch glass baking dish with cooking spray. Place spinach in microwave-safe bowl. Cover with plastic wrap and microwave on HIGH 2 minutes; squeeze spinach dry.
Combine ravioli, drained tomatoes and Italian seasoning in medium microwave-safe bowl. Cover with plastic wrap and microwave on HIGH 3 to 4 minutes or until mixture is hot. Combine cottage cheese, spinach and black pepper in small bowl.
Looks yummy, huh?
The recipe was simple, quick, and required just a few ingredients.  Who doesn't love that?  Check out the list of "Almost Homemade" Chef Boyardee recipes and give one a try for yourself.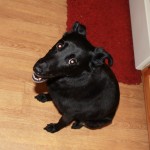 I just had to share this! Here's my cute pup.  She was eagerly standing by hoping we would drop a bite for her. 🙂  Do you remember Lucy?  She was a Pedigree Ambassador!
Disclosure: "I wrote this review while participating in a campaign by Mom Central Consulting on behalf of Chef Boyardee and received a gift card to facilitate my review and a promotional item to thank me for taking the time to participate."