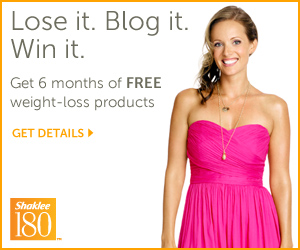 Do you remember the Shaklee Cinch program that I just completed 6 months of?  If not check out my 6 month Shaklee wrap up post and my Shaklee 180 Ambassador application video.  Well, Shaklee has launched a new blogger program to go along with their new line!  Cinch is no more but Shaklee's new program is called Shaklee 180.  Isn't that a great name?  I just love the imagery it creates.  It makes me visualize the back of an overweight person as they turn around and are magically transformed into a more fit person.  Shaklee 180 isn't magic but it does work!  If you're a blogger and would love to join Shaklee on a weight loss/inch loss journey then come and sign up.  You'll get six months worth of product  in exchange for you sharing your experience  with your readers.  The products you receive will include two meals a day, snacks, and a supplement.  Plus, you'll have opportunities to win great prizes just for participating!
Do you want to be healthier, lose those stubborn pounds, and have blogging friends to encourage you along the way?  Are you ready to do a 180?  Take your shape in a whole new direction™ and apply to the Shaklee 180 Healthy Blogger Competition program! At the bottom of the application don't forget to fill in that Embracing Beauty referred you.
Here's a look at the great prizes you could win:
A grand prize that includes a $2,500 Visa Card, an all-expense paid trip for you and a friend for a weekend trip away, including airfare and travel to Lake Austin Spa and Resort rated as the #1 spa destination in North America, according to Conde' Nast Traveler Magazine,for a 3 night stay that includes meals, fitness classes, activities, make-over and full-photo shoot for the winner
An opportunity to be chosen for a Shaklee 180™ video promotion and a trip to Shaklee HQ in California.
For selected bloggers who participate monthly incentives, including paid Facebook advertising for your blog, workout gear, shoes, equipment, and more.
If you get accepted I promise you won't regret it.  Being apart of the Shaklee blogger team was incredible.  I've met a lot of tremendous women along the way and one of them will be a regular blogger pretty soon so keep your eyes peeled for more information on that!  I'm sure you'll just love this program.  Please, please, please let me know if you're accepted so I can celebrate with you!!!
So what are you waiting for?  Go here to see the Shaklee 180 Blogger Application with all the details!  Oh, and don't forget to mention at the bottom of the application that Embracing Beauty referred you!
You can "Like" Shaklee 180 on Facebook, and follow Shaklee 180 on Twitter to stay on top of their latest news.
Disclaimer: Results and experiences from the Shaklee 180 Program are unique for each person, so results may vary. People following the weight loss portion of the Shaklee 180 program can expect to lose 1-2 pounds a week.  This post is on behalf of the Shaklee Corporation.  For more information please see my disclosure policy.