Ready or not, here comes Fall…
It's that time of year again – time for sweaters and boots (depending on where you live of course!), kiddos are heading back to school, and Pinterest is full of every dish imaginable made with pumpkin.  As another Fall season begins to creep in, I'm ready to celebrate with a warm cup of coffee…and it just may be pumpkin flavored.
Coffee and Fall go together like Summer and swimming.  They fit like a glove in Winter.
Oh, how I love coffee and how I miss drinking it regularly while I'm pregnant!  If you love coffee, convenience, and you happen to live near me in the Piedmont Triad (of NC) then I have some incredible news for you.  Because I don't want to leave anyone out, everyone who lives near or far can check out the Keurig deals to be had right now on Amazon.com…and scroll down for a giveaway below.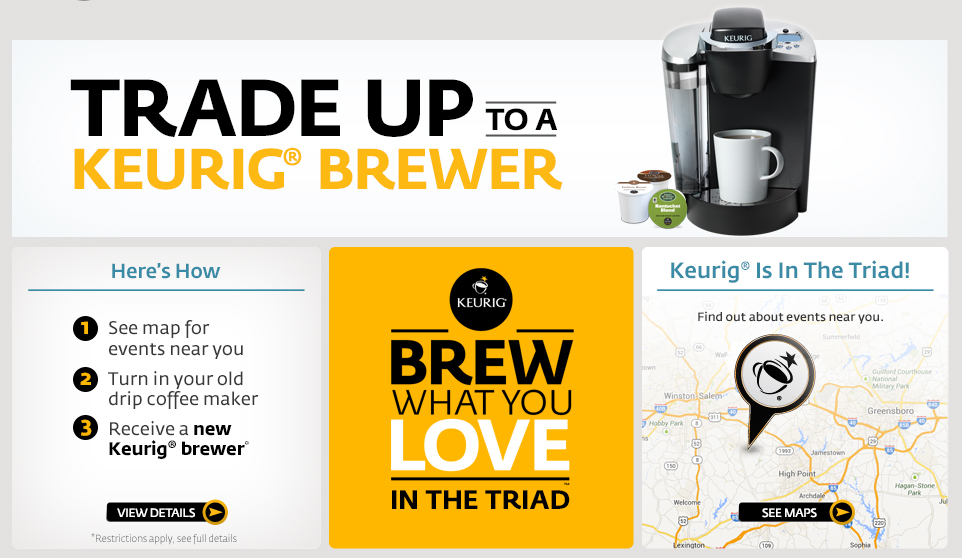 For those who live near the Piedmont Triad you can take part in sampling one of the 75,000 free cups of premium coffee that Keurig is handing out or exchange your old drip coffee maker for a brand new Keurig free of charge (while supplies last!).  To participate in the brewer exchange you must be 18 years or older and have valid proof you're a NC resident.  Keurig will host a series of sampling and brewer exchange events from August 22 – September 27.  For full details and dates go to Keurig.com/Triad.
Why choose a Keurig?  Here a few reasons why I love mine:
– Less Mess Only one tiny cup to pop in and throw out.  There are no messy filters or coffee grounds to worry about.
– More Sleep I can hit the snooze button because my coffee will be ready in under a minute from the time I hit the start button.
– More Variety Keurig K-cups have over 250 gourmet varieties of coffee (including pumpkin spice), tea, apple cider, and hot cocoa.
– Less Noise I dislike noisy appliances and with the whisper quiet Keurig I have no complaints.
Would you like to own a Keurig of your own?  I'm glad you would because I have a Keurig giveaway just for you!
a Rafflecopter giveaway