T shirts a common item wore by people around the globe. It is one of the most popular garments because it can be worn with almost anything such as jeans, lowers, skirts, shorts, etc. T shirts are also readily available in the market whether it is a market in the US or in central Asia. There are many different kinds of t shirts available too. Branded t shirts are one of the most expensive kind of t shirts whereas; ordinary t shirts available in the market can be highly affordable.  I saw a sale yesterday where plain t shirts were only $2.50.
Customized t shirts replicate a person's personality which is why cheap customized t shirts may not be easily available. A person will have to purchase a solid color t shirt and customized it himself in order to save money. If you're looking for an inexpensive method t shirt customizing, follow these steps: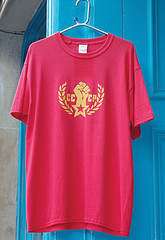 Buy affordable t shirt material
T shirts of every material are available in the open market. A very fine material would burden the wallet whereas a cheaper one will keep the budget within range. If a person searches properly, he or she will be able to find ample kinds of t shirt materials they would like. The first step towards customized t shirts for a cheaper value is to find the most suitable material for a t shirt. The most favorable type of material is 100% cotton which is also very affordable as compared to silk shirts or nylon shirts. 100% cotton shirts are also very easy to customize and comfortable to wear. Majority of the customized t shirts available in the market at branded stores are cotton since the consumer demand is high for this material.  You'll also want to take note if the material is preshrunk or not.
Self customization as compared to buying customized t shirts
A person can walk into a store and purchase his favorite customized t shirt. However, this t shirt will cost him double the amount of customizing a t shirt personally. Self customization means that a person engages himself into putting together a theme for the t shirt. This method is affordable and leaves a person with the t shirt just the way they want it as compared to buying a branded ready made t shirt. The first step would be for the person can choose the basic color of the t shirt. The second step would be to select the design of the t shirt and what image or text you wants displayed on it. Self customization can save you a lot of money!
Approaching an independent t shirt printer
Once an individual has the shirt theme finalized, he or she can approach an independent t shirt printing person or company which can produce the final product. Having a t shirt printed by an independent printer allows a person to obtain a cheaper costing t shirt. T shirt printers are readily available in the market and cost a small amount to print a design or an image on the t shirt. They operate a cloth printer which transmits the image or design onto the t shirt with non-erasable ink. These independent printers can be found in shopping malls or t shirt markets where they also help a person customized t shirts for a low price. Cheap customized t shirts help people with low budgets to enjoy a little personalized clothing.
This post was written by Jordon, who loves to assist people in making their life trendy through his informative articles, which he regularly submits in directories and other sites such as Thetshirtman.