I have some great news to announce!  The news is two-fold. 
My news: I am pregnant! My husband and I are thrilled about this little blessing and are looking forward to seeing her little face.   I can't wait to get started stockpiling baby essentials and decorating our nursery. : )
My news for you: I'm hosting a virtual baby shower where you win the gifts! How exciting is that?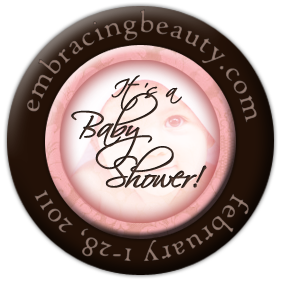 Baby Shower Details:
-A new giveaway every day
-Each giveaway will last for approximately 30 days (each giveaway will have it's ending date posted)
-For each item I'm giving away, I have been given the same item from our sponsors
-Just a brief sneak peek at some of our sponsors -Swaddle Designs, Intelligender, Tommee Tippee, Undercover Mama, & Tea Collection. That's only the beginning!
I love throwing parties, especially baby showers, so let's get this party started!  I am so thankful to all of our wonderful and generous sponsors for sharing their best products with you and me!  I hope you enjoy reading the posts and I look forward to announcing our winners!
I'll be updating the following list throughout the month so make sure you check back – you don't want to miss one!