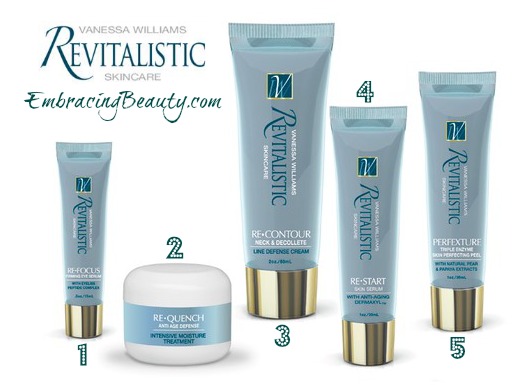 I was first given the opportunity to review Vanessa William's Revitalistic SkinCare set two months ago.  I spent over a month reviewing each of the products because I want to thoroughly review a product before promoting it.  After one week of trying the products, I knew I would love them.  By the end of the month, I was already placing orders for a few of the items with my own money.  This is a great set!
To begin with I was a little skeptical because anytime a celebrity puts their name on something I'm extra critical.  I don't really know why but that's how my mind works.  Also, I knew that just because Vanessa Williams is amazingly beautiful that these products aren't what made her that way and they weren't going to turn me into the next super model.  I was realistic and even a bit negative to begin with.  These products had to be really tremendous to change my mind and they did!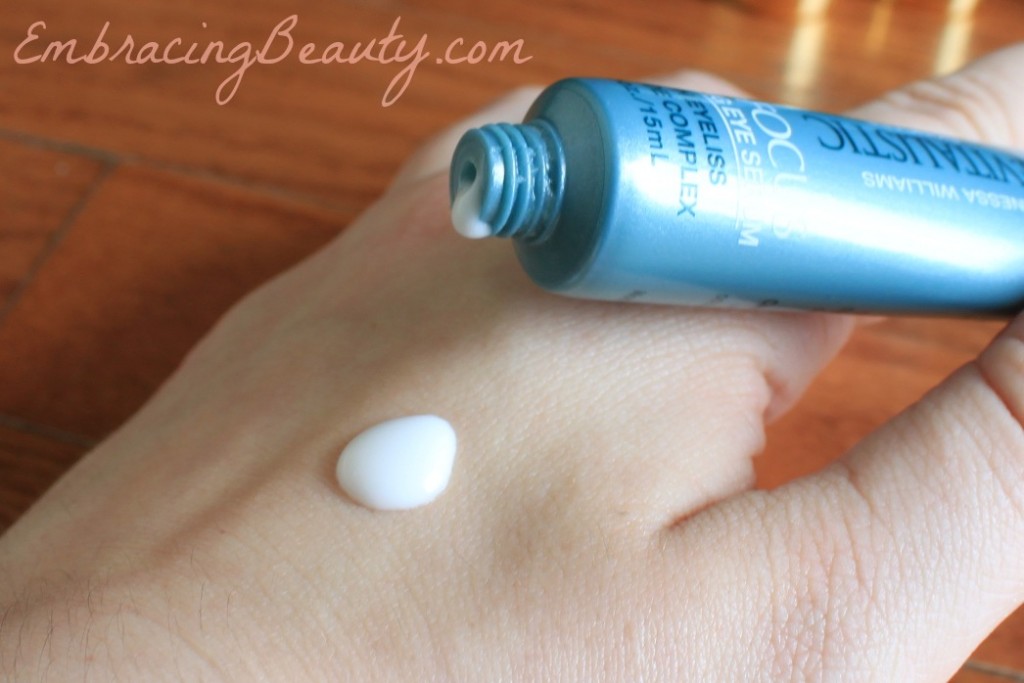 1.) RE-FOCUS Firming Eye Cream
This is an extremely light-weight, almost runny eye cream.  You can wear it day and night without having to worry about putting too much product on and having your make up cake up.  While I liked that about it I wanted a little something more substantial at night.  I guess I'm just used to the thicker creams.  At night I would follow my skin care regimen as normal, pat the eye cream on, and then dab a little Vaseline over top of it to seal it in for the night.  In the morning my eyes would feel so hydrated.  I loved it!
2.) RE-QUENCH Anti-Age Defense
This is a great product!  I feel bad that I don't have a picture to show you the texture but the truth is I used it all. I did.  I loved it and it's definitely one of the products I'll keep buying.  It's lightweight but not too light and it moisturized wonderfully.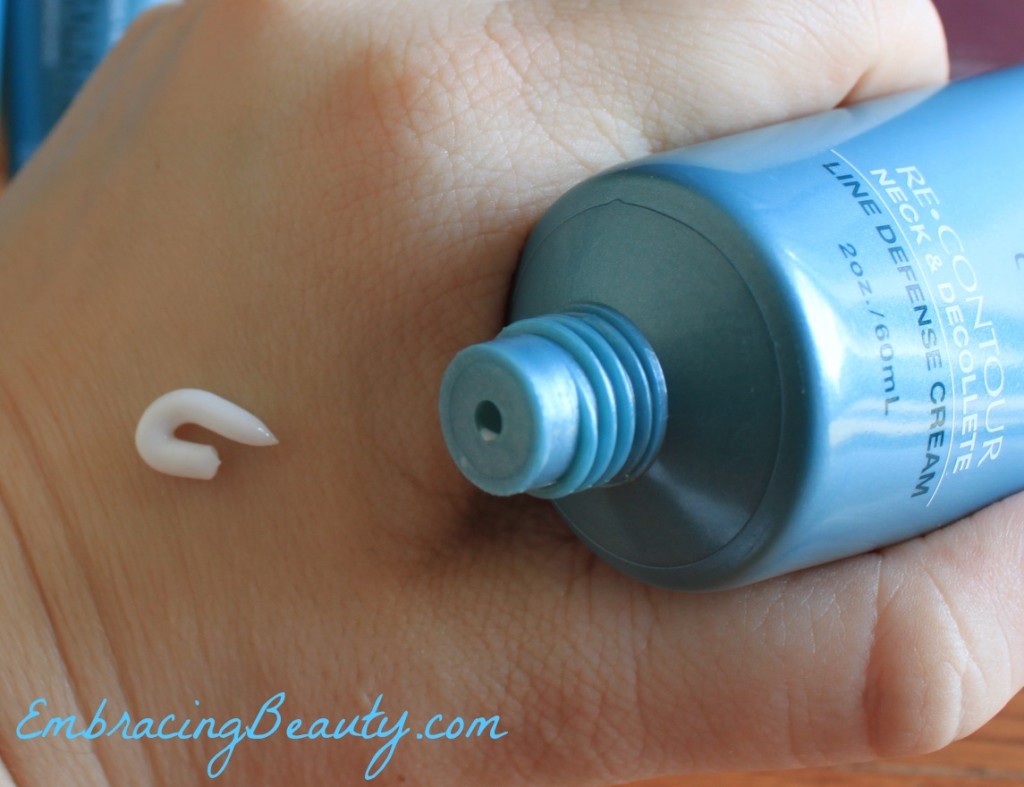 3.) RE-CONTOUR Neck & Decollete Cream
I love a great decollete cream!  I usually use my regular moisturizer over my neck but I use a specialized cream for the area just below my neck, along my collar bone.  This is a thicker cream that feels great on.  I recommend it to everyone because no one wants to have a pretty face and a wrinkly neck.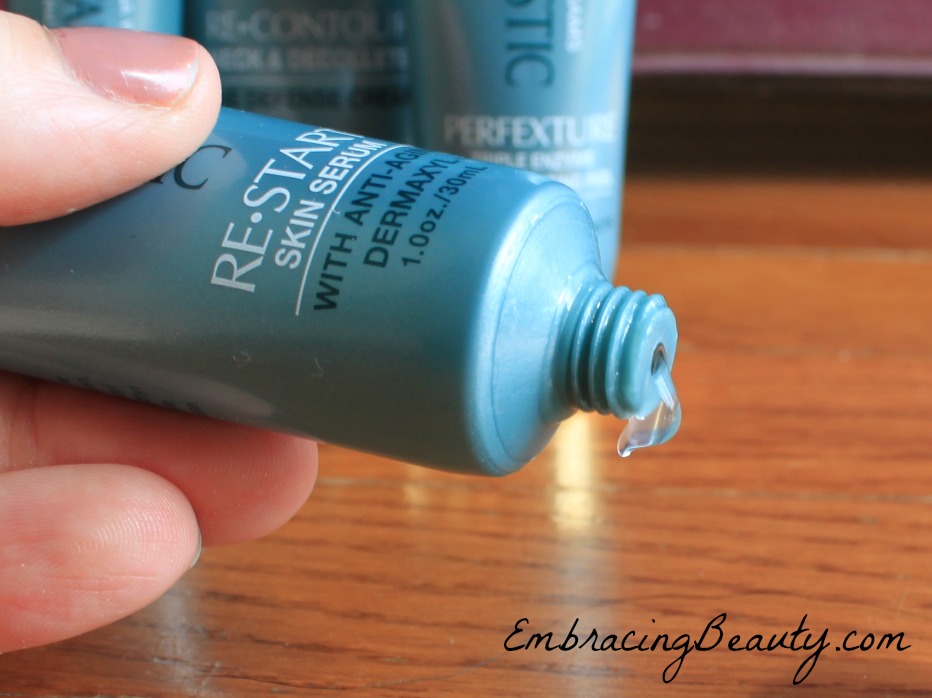 4.) RE-START Skin Serum
I have a love/hate relationship with this product.  Serums are great concentrated products that deliver a lot of bang for your buck however, I've never seen a serum quite like this before!  It's a very greasy feeling product which I didn't enjoy but by the time it was rubbed it into my skin it wasn't greasy anymore.  It's like magic!  All in all, I like this product and would probably buy again.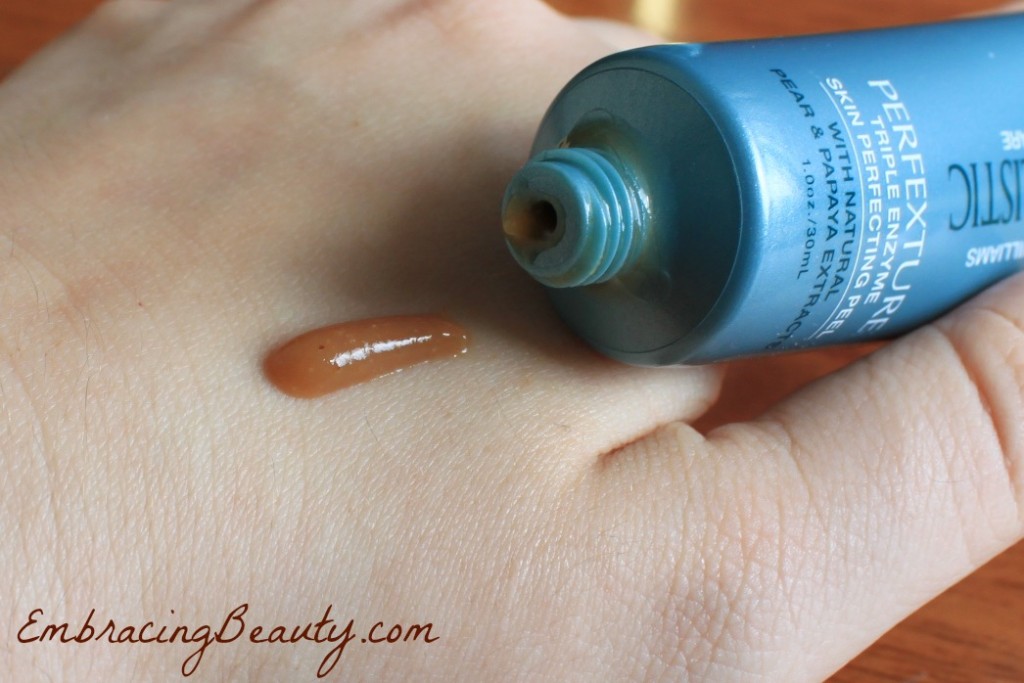 5.) PERFEXTURE Triple Enzyme Skin Perfecting Peel
Last but not least, we have PERFEXTURE, the set's peel.  THIS. IS. AMAZING!  It's truly a wonderful product.  The directions say to leave it on for three minutes and then wash it off.  I put it on while in the shower because I wanted a way to wash all the little granules off thoroughly without getting any in my eyes and without overflowing the bathroom sink with water.  I may have left it on a little longer than three minutes but when I washed it off my skin felt brand new.  It sloughs off the old dead skin on top leaving smooth skin underneath.  Once I dried off I applied the other products on top to seal in the moisture and keep my skin feeling soft.  I will be stocking up on this product, there's no doubt about it!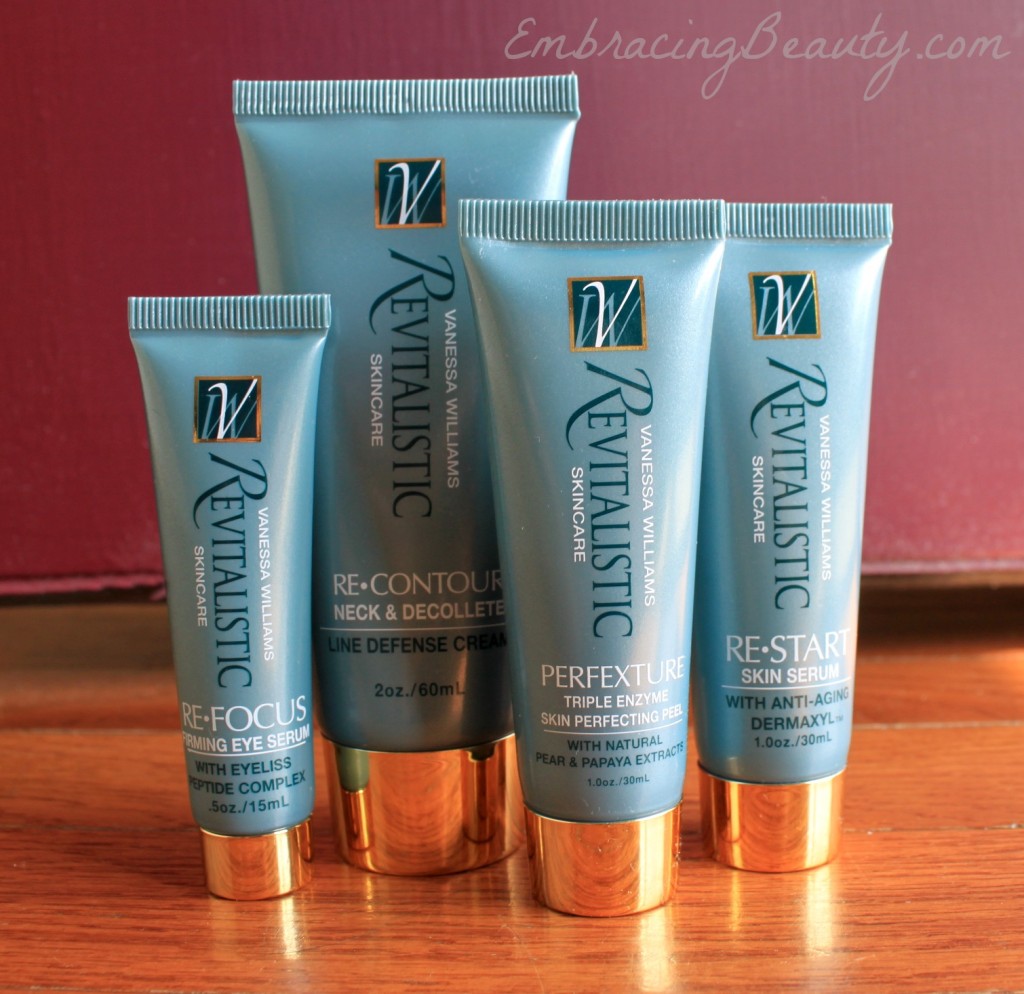 This set of skin care products has my approval.  If you'd like to try it out for yourself you can buy it right now on QVC for $52 + shipping.
Until next time,
Have a beautiful day!!