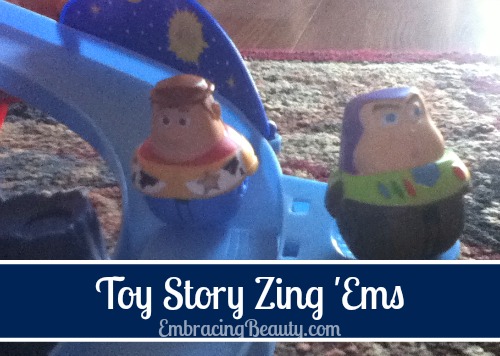 When Disney contacted me to review one of their latest toys I jumped at the chance.  When I got the package in the mail I was a little puzzled by what exactly Zing 'Ems were.  After playing around with the toy myself I quickly found out why they were called that….they zip, ride, and zing along!  Disney phrases it much better though, they say,
"Zing 'Ems are an action-packed, completely new way to play with everyone's favorite Toy Story characters, and the Rocket Rumble playset is one of Buzz Lightyear's most action-filled adventures yet. The galaxy's greatest Space Ranger needs your help to take on Zurg (figure sold separately). Use the attack launcher to send Buzz zinging and zooming around the playset, crashing through the deadly Zurgbot and tumbling through the treacherous asteroid field. Succeed, and it's time to take on Zurg! Will you break through the obstacles and save the day? Or will you be defeated by the asteroid field and Zurgbot? Includes play set and 1 exclusive Buzz Lightyear Zing'ems figure. Collect all your favorite Zing'ems figures, each sold separately."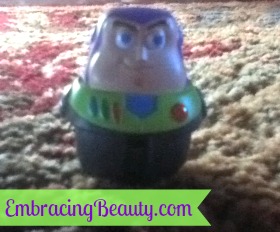 Check out how cute Buzz Lightyear is!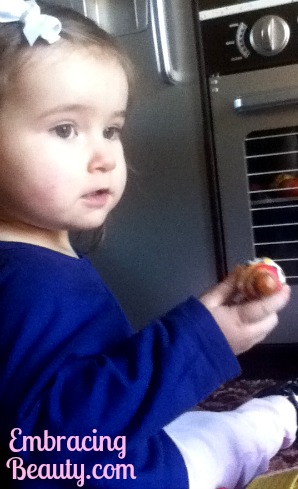 My little girl loved playing with all of the pieces but she especially loved Woody.  He's always been my favorite too!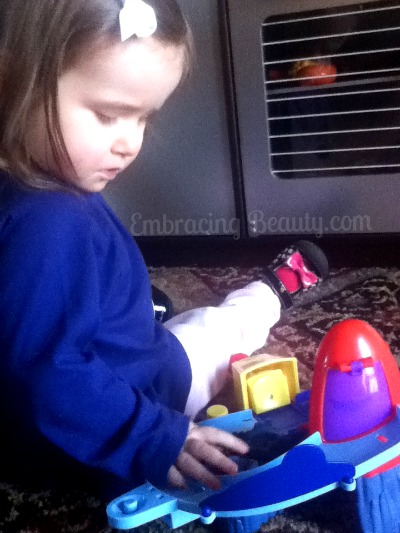 While she's not big enough yet to pull the lever back that sends them flying (as you'll see demonstrated in a video later on) she enjoyed pushing the button that made them jump from spot to spot and of course she loved driving them around the track herself.  And around the entire house.  I don't mind though, I love these little guys.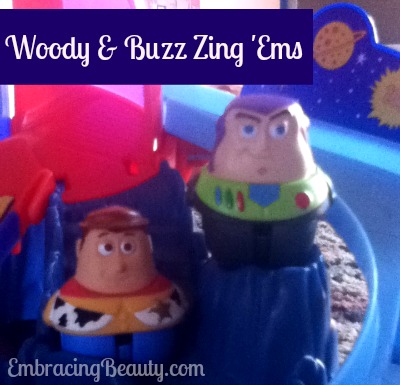 Check em out!  Woody and Buzz, the best of friends!  Each figure rolled easily along with just the slightest push and they always popped back up to standing position.  They kind of remind me of the old Weebles I played with as a kid but better because these roll!
I made a quick  YouTube video to show you exactly how the Toy Story Zing 'Ems works.  I hope you enjoy this short little YouTube Toy Story Zing 'Ems demonstration!
You can purchase Toy Story Rocket Rumble Playset & Figure Assortment set for yourself your kids at Amazon.com.  Right now they are selling for $21.99 but as you know, prices could change at anytime!