This is part of a sponsored campaign on behalf of REACH. 
Did you know that according to a recent survey, 82% of the nation's moms never skipping brushing their teeth every night?  If fact, moms have even prioritized it over washing their faces before bed or removing their make-up.  I know I always brush even if I don't wash off my face (Which is absolutely horrible to skip! I know, I know.)  It just goes to show, even when moms are their busiest they make oral hygiene a high priority.
We need to, don't we?  After all, we spend valuable time each day training our children to brush properly when they are little and reminding them to when they are older.  Children practice what they see so we have to be shining examples of what good oral health looks like.  Not to mention the fact that no one wants the expenses and headaches (literally) of dentist procedures that could have avoided if proper care had been given to our mouths.
I try to make it as enjoyable as possible for my children to brush their teeth.  Here are a few simple ways I try to make brushing fun for my kids.
– Making it a routine helps tremendously.  They know what to expect because we do the same thing every single day.
– I also let my daughter pick out which toothbrush she wants and we make a big deal of brushing with that fun toothbrush.  Hello Kitty is the brush of choice right now and it flashes for the length of time she should brush.  Usually, I avoid character stamped e-v-e-r-y-t-h-i-n-g but toothbrushes are one of the few areas where I embrace cartoons.
– We also make trips to the visit seem as big as going to the zoo.  It's a huge deal in my 4 year old's mind and I'll keep it that way for as long as possible.  After all, not having cavities IS an achievement that she earned herself (with a little of her parent's help).  It probably helps that our dentist gives out stickers and a toy for not having a cavity. 🙂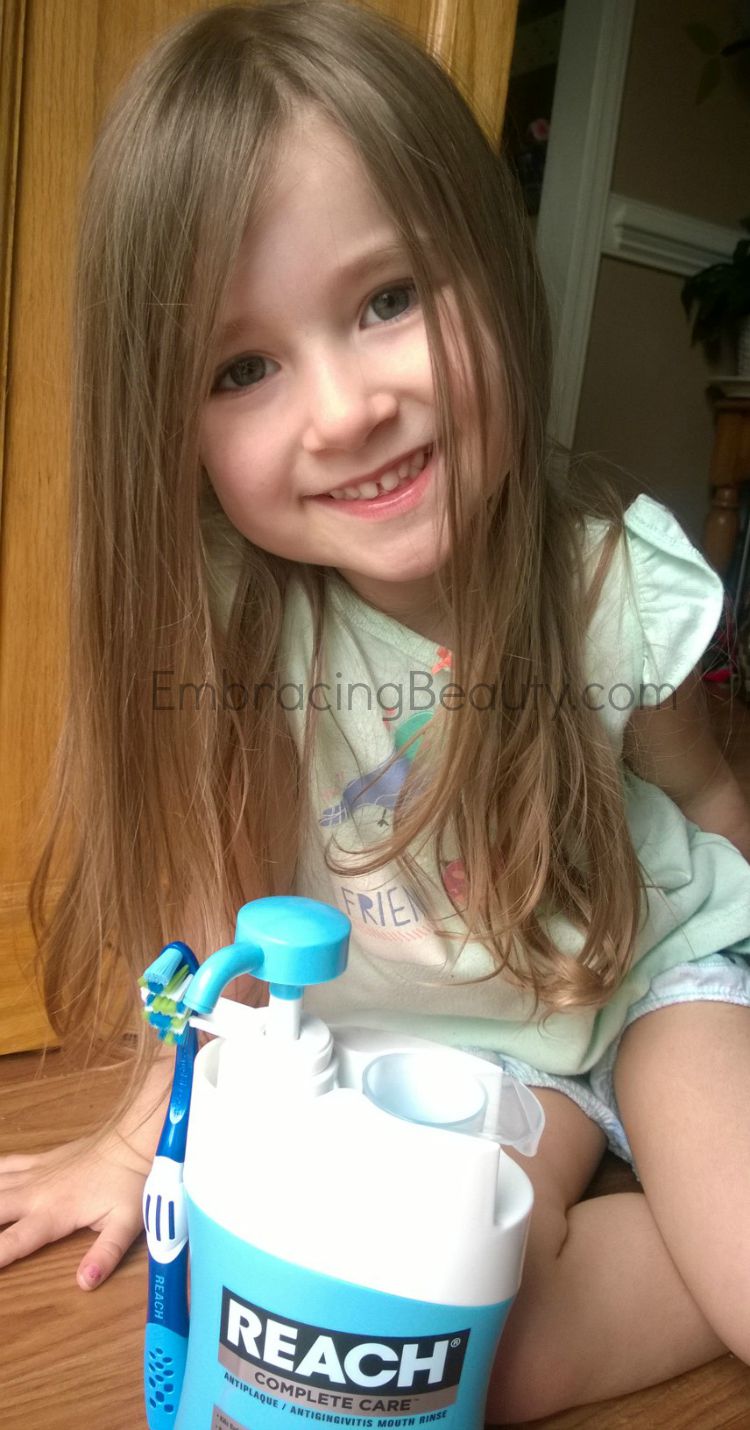 Recently, I was given a set by Reach to review and my daughter was very excited to check it out herself.  It's similar to her Hello Kitty mouthwash that Reach also makes.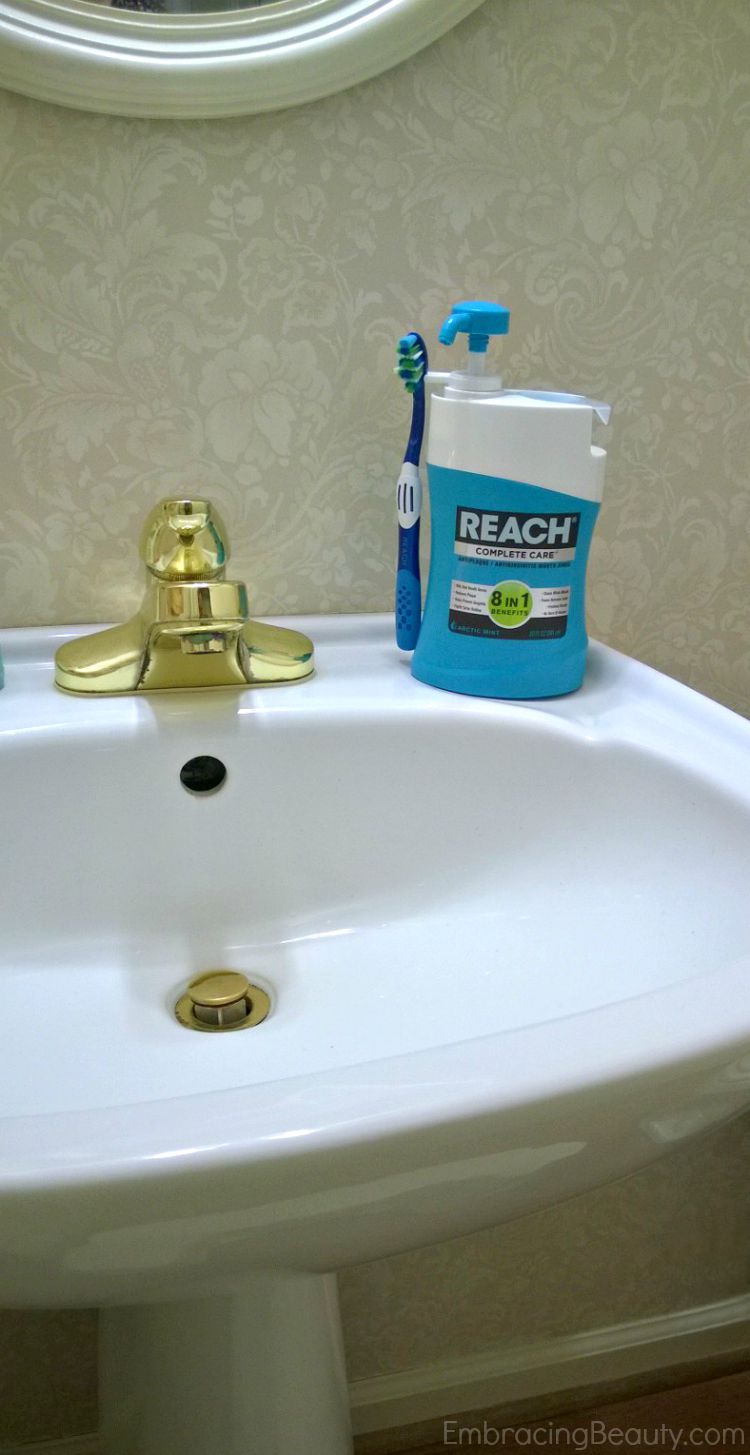 The new Reach Complete Care Rinse offers 8-in-1 benefits as well as another reason to make moms smile brighter – less counter clutter.  Yea, that's a huge one in my book!  The rinse tastes minty but isn't overpowering, it's designed to target problem areas in the mouth, and it makes sure the bathroom counter stays neat and tidy.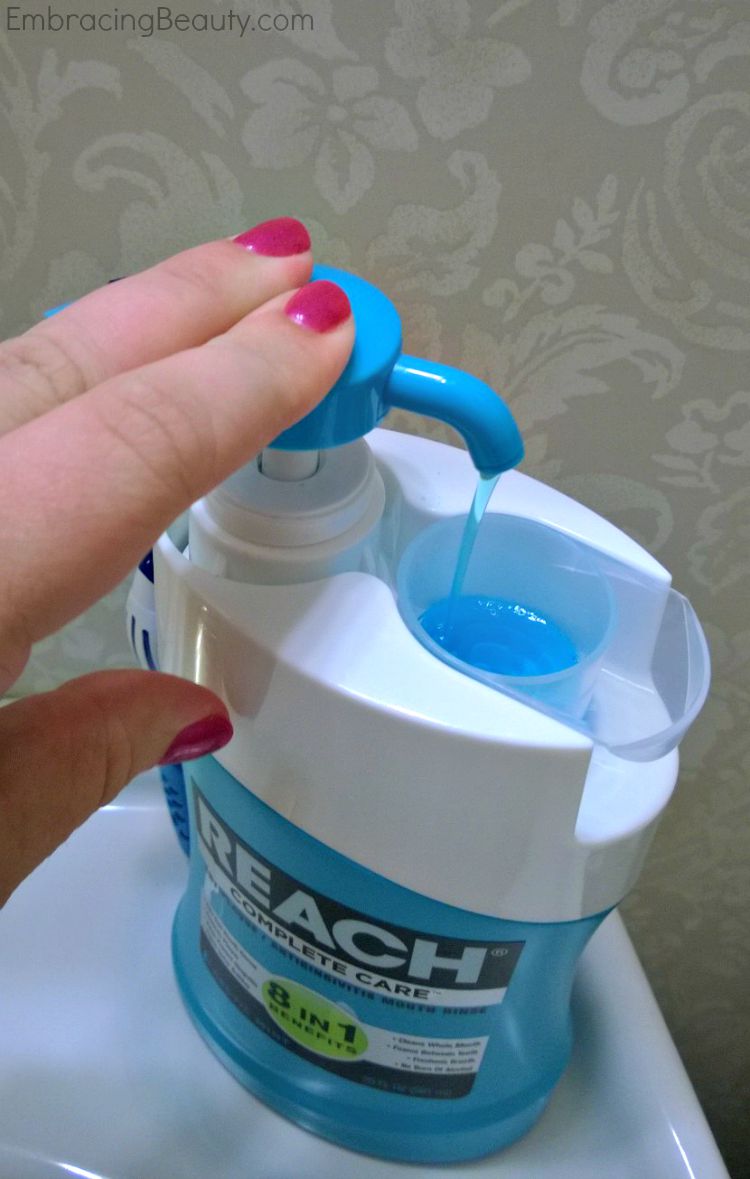 It has a built in storage space for a cup AND a toothbrush holder.  It's quite a clever little product if you ask me.  Good job, Reach!  Plus, it's attractive enough to leave on the counter to remind sleepy mamas to use mouthwash daily too.  It's great!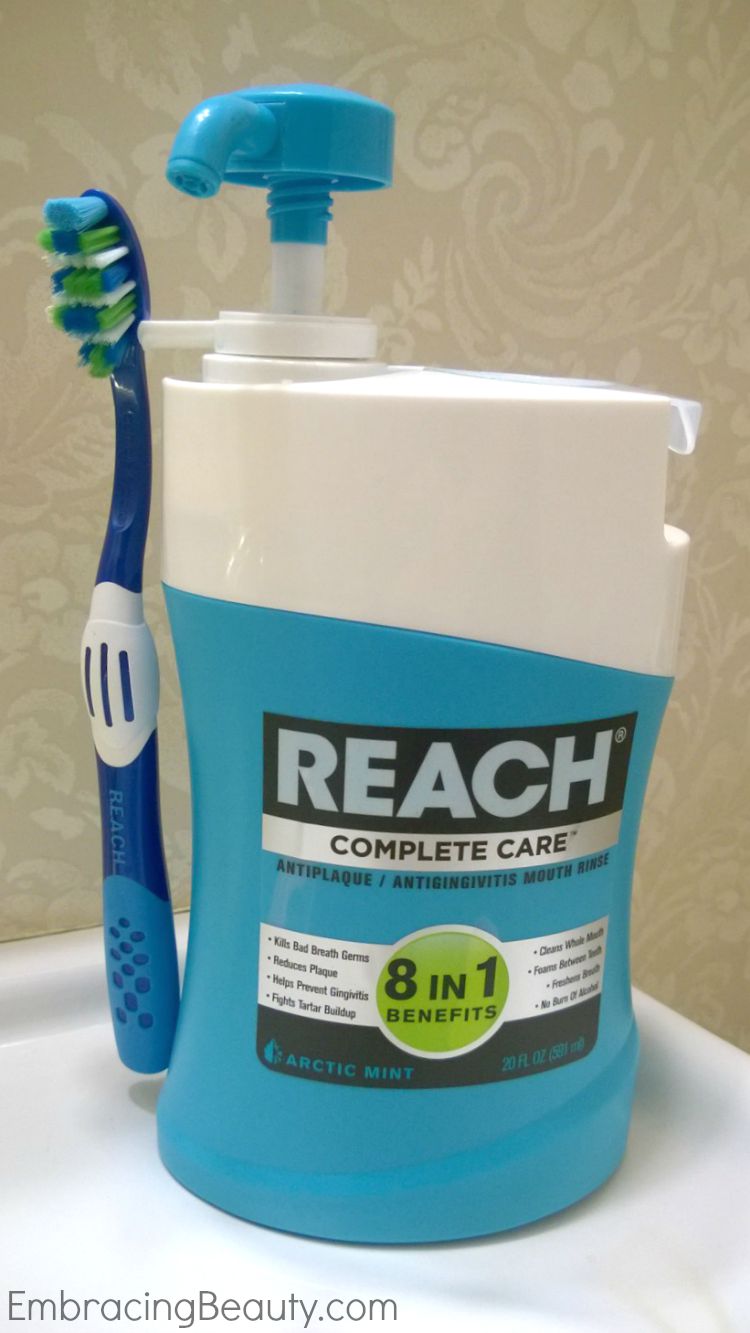 The Reach also has a new Curve toothbrush which boasts of a 13° triple angled neck and triple angled bristles to maximize contact with each tooth, clean between teeth, and clean around the gum line.  The brush fit comfortably in my hand and the angle made it easy to reach those hard to reach places.  I'll definitely be buying this brush  the next time I'm due for a new one.
Visit Reach.com for more info or stop by and check our Reach's new products the next time you're out at Walgreens.