I just got this email about 20 minutes ago and I'm excited to share it with you!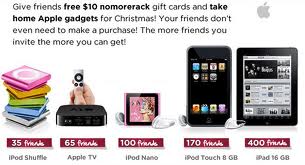 Want FREE Apple products? All you have to do is
Sign up or sign in at NoMoreRack.
Head over to "My Profile" at nomorerack™ and copy your dedicated referral link.
Send that link to all of your friends using facebook, Twitter, email or phone and tell them to register at nomorerack™ – all friends who register using this link will count towards your total.
When you hit your friend target, place your order at www.friendrack.com.
Sit back, relax, and wait for your FREE Apple products to be delivered direct to your door.
There's no limit on the number of Apple products you can earn, so refer all the friends you like! Substitute higher value items for the equivalent quantity of lower value items. For example, if you refer 400 friends you can pick up either an iPad 2 16GB or 4 iPod Nanos! It's your call!
Act fast! This promotion is only between December 15th noon EST and December 18th noon EST, 2011 (72 hours)!
Also, if you're new to NoMoreRack.com, you can get a $10 credit good towards any purchase of $20 or more.  After registering for a NoMoreRack.com account, click on the "My Profile" tab (top right side) and then click on "Redeem Gift Card" under "My Profile" and enter code P1070 to get your free $10 gift card credit!
The fine print
Friend registration must be a valid email address and cannot be fraudulently generated
If your friends were fraudulently generated, you will be disqualified from this promotion
No duplicated email addresses are allowed
Registered users cannot register again with a different email address
Only friends who register between December 15th noon EST and December 18th noon EST, 2011 (72 hours) count towards this promotion
This giveaway is available for US residents only