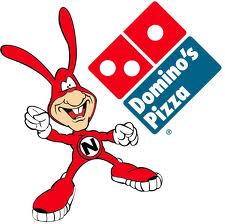 My husband has been waiting years, no really, years for Domino's Noid to return!  Without fail, every single time I say that I'm annoyed he quickly replies, "You better not steal my pizza's freshness!"   And now, at last, the infamous Domino's mascot has made his re-entry into the world though a Facebook advergame.  My husband was very eager to share the news with me this morning! Do you remember the real Noid video game?  I never played but I'm sure true Noid fans will remember and appreciate the old school look the "Noid's Super Pizza Shootout" has.  It looks like an old light gun arcade game from the '80s.  This game was released in honor of the Noid's 25th anniversary.
Domino's arcade-style video game premiered on its Facebook page yesterday and will stay there for one week.  Here's my favorite part, Domino's will give away a coupon for a free pizza every minute to the player with the highest score. Nostalgia and the chance for free pizza, who could ask for more?
I have to admit that I'm happy to see the Noid return, if only temporary, but my favorite '80s ad icon would have to be the California Raisins!  What do you think?  Do you think the Noid should stick around a while and who is your favorite ad mascot?
Follow Embracing Beauty on Facebook to make sure you never miss a freebie!