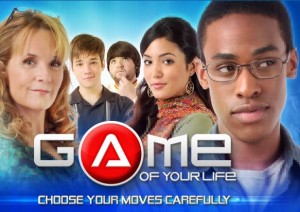 Once again P&G and Walmart have teamed together to make another family-friendly movie!  This one is called Game of Your Life, Choose Your Moves Carefully.  Don't you just love the title?  As with all of their movies, Game of Your Life, opens the opportunity for family discussion on morals and personal accountability.  I love it!  I can't say enough about how I appreciate them making quality,  uncheesy, and entertaining movies suitable for the entire family.  That is so rare these days and really applaud them for it!
Synopsis:
When gamer Zach Taylor lands a prized scholarship to a prestigious Institute of Game Design, his future breaks wide open. The opportunity to study under gaming legend Marcus Bentton and alongside the country's most creative minds will certainly propel him into a successful career as a video game designer. That is, if he can pass the infamous freshman project that eliminates more than half of the class!

He teams up with brilliant yet socially awkward friends Phillip and Donald and together they persuade Sara Ramirez, a determined girl with whom Zach has a history (and possibly a future) – to join them. As the group becomes more and more entrenched in the project, Zach learns that his father, is facing mounting financial difficulty. To help out, Zach accepts an opportunity to work directly with Marcus Bentton on a secretive side project that seems too good to be true. The effort requires nearly all of Zach's time and energy, which he should be devoting to the project. Struggling to keep it together, Zach is torn between his responsibility to his team, his admiration for Bentton and a chance to help his father.

It's a revealing story that recognizes the magnitude behind the choices we make and the importance loyalty plays in making good decisions.
Loyalty.  How often do you hear that word anymore?  People today in the younger generation, my generation, don't know much at all about being loyal.  If someone become too busy they'll just politely back out on their commitments and expect everyone to understand.  I deeply believe that loyalty is one of the best traits a person can have.  To be loyal means that you'll put others above your own desires, that takes maturity.  Watch Game of Your Life to see how Zach handles being torn three different directions!
Watch the Trailer:

So are you ready to watch it for yourself?  Grab your family together with a big bowl of popcorn and check out the premiere of Game of Your Life on Friday, December 2 on NBC at 8pm ET/7pm CT.
Check out the other great P&G Family Movie Night films that I've reviewed: Who is Simon Miller?, Field of Vision, and Game Time – Tackling the Past.  To find more information visit the official Family Movie Night website or the Facebook page.
Disclosure: I wrote this review while participating in a campaign by Mom Central Consulting on behalf of P&G and received a promotional item to thank me for taking the time to participate.