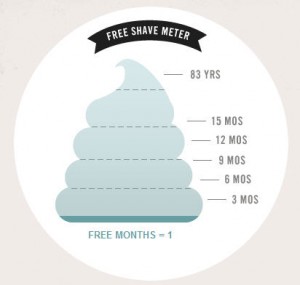 Dollar Shave Club has gotten a lot of publicity on internet this week for their viral commercial.  Have you seen it?  They're a company that has been around for a few years but what I'm most excited about is their affiliate program.  Just by sharing this offer with others you have the opportunity to earn months and months of free razors!
Their razors are at a good price and if they are quality razors this is a great deal!   I'll know soon, because I just placed my first order at the Dollar Shave Club.  I chose their top tier option, which is $9 a month for four razors (includes shipping and handling).
Go ahead and check them out (yes, this post does contain my referral link).  Don't forget that each time you refer a new member, you'll earn a month of free razors from them!!!
If you've tried their razors before I would love to hear your experience!