A month ago I wrote a review of  the new Crest and Oral-B Pro-Health Clinical Plaque Control line of products which I received to review from Crest and Mom Central Consulting.  After using the products for a full month I'm back here to share my thoughts.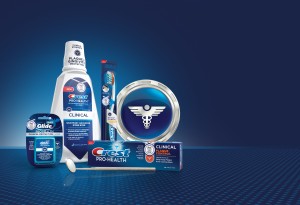 The Crest Pro-Health Clinical Plaque Control Toothpaste has a pleasant taste that isn't too overpowering.  I love the texture of it!  It leaves my teeth feeling unbelievably clean.  I never thought I could really have "just from the dentist" feel at home.  Everyday.
I'll be honest, I'm not too picky when it comes to toothbrushes.  I want a nice comfortable handle, super soft bristles, and well, that's about it.  The Oral-B Pro-Health Clinical Pro-Flex Toothbrush was very nice though!  The handle is comfortable with the squishy little grippies that I like.  You know the ones.  The head on the toothbrush is raised slightly to give it a good angle and it's flexible to reach all those hard to reach spots.  I've been consciously brushing in circles because I know it's suppose to clean better and be gentler on my gums.  I'm pretty proud that I'm now doing that which I thought a month ago was an impossible task.  It's so much easier to go back and forth, you know?
I know I said in my previous post that I still preferred woven floss to Oral-B Glide Pro-Health Clinical Protection Floss but I have since changed my opinion!  My husband disagrees and still loves his woven floss better because he can grip it easier but I love this floss because it never, ever hurts my gums.  Remember recently when I was in the hospital for a week or so?  I was able to brush daily but I didn't bother with flossing or mouth wash.  When I came home I immediately started back with my plaque control routine and my gums didn't bleed at all!  If I had used any other floss on the market my sensitive gums would have at least bled for the first two days.
Last but not least, the Crest Pro-Health Clinical Rinse!  My husband insists on the floss, brush, rinse method and I prefer the brush, floss, and rinse method.  My method makes sense, right?  You get the majority of nastiness off, floss in the crevices to get the leftovers, and them you use mouth wash to rinse it away.  My dentist said that it doesn't matter which order you do the three steps as long as you do them but I still think my way is right. : )  I like the Pro-Health Clinical Rinse!  My teeth feel clean afterwards without a burning sensation on my mouth and gums.
All in all, I think the Crest and Oral-B Pro-Health products are great!  If you're unhappy with your current regimen you should look into these products.  I can also tell you that I've found a couple great deals on these products in the last month so the price is right if you look for the deals!
Disclosure: "I wrote this review while participating in a test drive campaign by Mom Central Consulting on behalf of Crest and Oral-B and received product samples to facilitate my candid review. Mom Central Consulting sent me a promotional gift to thank me for taking the time to participate."