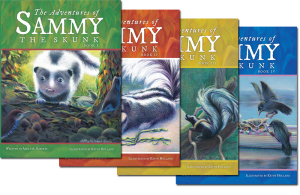 If you are a parent or teacher looking for more reading resources for your kids, you need to check out a brand new children's story book series entitled The Adventures of Sammy the Skunk. This delightful, and beautifully illustrated four book series allows children to explore the Deep Woods with Sammy the Skunk and his other forest friends.
Each book contains three stories in which the animals of the forest find themselves in dangerous and funny situations and Sammy often comes to their rescue. At the end of each of the twelve stores, there is a short Life Lesson section including a Bible verse, thought provoking question, and a truth about God. The stories work well for elementary age children to read on their own or for a mini-devotional to be read to pre-school and kindergarten age children.
You can purchase The Adventures of Sammy the Skunk easily online at http://sammytheskunk.blogspot.com.
Throughout the month of May, as a promotion for the books' release, Adele is hosting a contest in which you can win the entire four book set! Be sure to visit the May Giveaway Page to participate! As a points based contest, you can increase your chances to win by following all of the simple steps.
About the Author
Adele Roberts has been in education for over 50 years working with pre-school through elementary aged children. Adele's students often begged her to tell them stories, and The Adventures of Sammy the Skunk actually began in that story telling form long before they were published. Adele loves to read these stories to children using her Sammy and Mr. Fox puppets as props, and she's already been ablet to read for libraries and schools with more events coming up. If you live in the Knoxville, Tennessee area, be sure to check out the events section of her website to see where she'll be next.