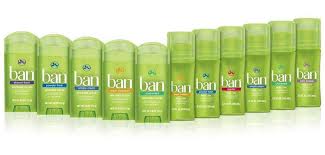 This. IS. Awesome!! Ban deodorant is my husband's brand of choice and I'm thrilled to share a super simple way that you can purchase this deodorant at Rite Aid and make money! Through Saturday (tomorrow, 9/8), Ban deodorant is on sale Buy 1 Get 1 Free and you'll also get a $1 +Up Reward when you purchase 2 Ban Deodorant products. To make this sweet deal even better, you'll get a $2 Monthly +Up Reward with the purchase of each item making these deodorants better than free.
Buy 2 Ban Deodorants – $4.29 each
Total After B1G1 Free Sale = $4.29 (for 2)
Get a $1 +Up Reward when you buy 2 (limit 2 offers, so limit of 4 deodorants)
Get 2 $2 Monthly +Up Rewards ($4 total, these are unadvertised +Up Rewards)
Final Cost FREE + $0.71 moneymaker!
Don't forget to check out the rest of Rite Aid's deals this week.