This compensated post was written by our guest contributor, Sophie West.  She has a passion for women's fashion and enjoys blogging about great looks for every stage of life.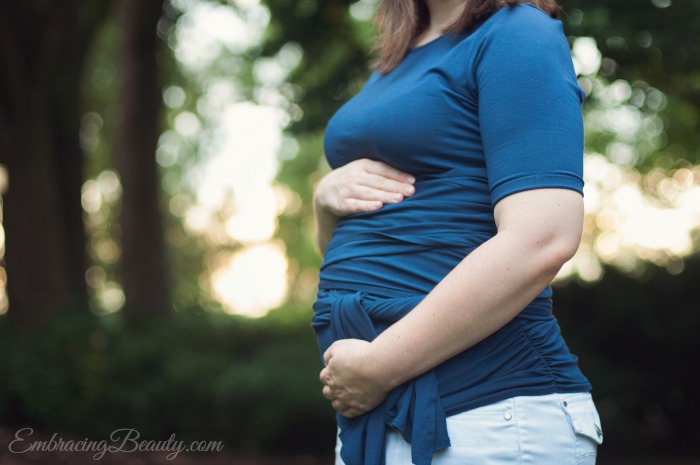 Designers have created a fabulous range of maternity jeans that allow you to go through your entire pregnancy in comfort and style without having to resort to baggy tracksuit bottoms during the final months. Every possible cut and style is available from skinny jeans to flares and all include an elasticated waistband that will accommodate your growing belly. There are a few different types of maternity jeans, and some are designed to stretch over your belly whilst others will sit just below it. The style you pick depends on your own personal taste, and whatever waistband you find to be the most comfortable during your pregnancy.
Do I Need Maternity Jeans?
During the first stages of pregnancy you may be able to extend the life of your regular jeans by purchasing a maternity band. This works by attaching to the waistband of your regular jeans and holds them up so you can leave the button and zip undone. This is an ideal option for the early stages of pregnancy, but as your body grows in other places such as your hips and thighs you may find that you need some extra room. Many women are tempted to purchase regular jeans in large sizes instead of maternity jeans, but these will sag around the seat and will not be able to fit comfortably around your new shape. After the first few months, maternity jeans will be the best option as they are specially cut to fit snugly through the legs and hips whilst leaving plenty of space for your bump.
What Style Is Best?
Bootcut jeans are a fabulous option as they flatter every figure and are easy to dress up or down depending on the occasion. Skinny jeans can be worn during the first half of pregnancy or if your bump is relatively small, but wearing them with a huge belly will make you resemble a lollipop. Three-quarter length jeans are a nice option for summer and can be worn with flip-flops and a flowing tunic for a casual look.
What Are The Different Types Of Maternity Jeans?
Maternity jeans come with many different waist bands, and it is best to try all the options to decide which is the most comfortable for you. A stretchy, elasticated band made from either jersey, lycra or spandex is attached to the top of the jeans and will stretch with your body as it grows during your pregnancy. The most popular type of band can be stretched over your entire bump providing the most coverage, and this is usually the most comfortable method. Another type of band is designed to sit underneath your belly and has a reinforced elastic rubber band built-in to stop the jeans from slipping down. The third option can be rolled over your bump or left underneath your belly depending on the level of cover you prefer. Maternity jeans feature either a button and zip or a drawstring at the front to close them.
How Do I Know Which Size to Choose?
Maternity jeans are sized in the same way as regular jeans therefore if you were a size 12 before pregnancy then chances are you will need the same size in maternity clothes. However, if you have gained a lot of weight around your hips and thighs then you may need a larger size. The elasticated bands are also available in different sizes, so it is important to measure your waist and refer to the manufacturers size chart to find your perfect fit.
Most maternity jeans are made from a lightweight denim that is blended with some form of stretchy material such as elastane for added comfort. Whilst dark colors such as navy blue and black are traditionally seen as more slimming, this does not mean that you cannot experiment with a range of different colors. Pastel shades such as baby pinks and lemons are preferable to bright neon colors, and team these with some super-comfy Uggs or tennis shoes. Whatever styles you preferred before pregnancy such as ripped or faded denim and diamante details are all available in maternity versions, and the wide range of different options allow you to dress your baby bump in style without having to sacrifice your personal comfort.