Would someone consider me "green?"  I don't know.  Maybe.  I'm not green for the sake of being green or because it's trendy.  I actually despise the trendiness of it.  I'm mostly green because I'm frugal.  Plus, since having a baby I'm ever aware of BPA, parabens, and formaldehyde in everyday products.

While researching safe products for my baby and my home I came across MightyNest.  They're a company that's dedicated to helping parents create healthy, safe homes by being an online store, resource center, and community of engagement and support, not judgment.  Doesn't that sound good?  Here's a little more information from their website:
Founded by two parents, their mission is to give families the ability to research, get advice, and buy high quality, natural, non-toxic everyday products all in one place.

From kitchenware to skin care, MightyNest's safety experts have built the web's broadest selection of products that are free from known toxic ingredients such as BPA, PVC, Phthalates, Lead, Melamine, Formaldehyde, Parabens, and more.

MightyNest seeks to help people feel motivated and empowered to make changes in their lives, whether large or small.
Since my little one was born I've been working on replacing old pans that are chipping.  We've replaced our old grill where the top of the lid was chipping off and falling in our food.  We've also replaced old, old melted plastic containers that were full of nasty toxins.  I'm a sentimental person so it wasn't always easy getting rid of things that were passed down to me from my family or my husband's family.  Brand new shiny things helped to ease the separation pain but because of the cost I'm only replacing a little at a time.
I found a giveaway to help me replace more items at a quick rate!  MightyNest is giving away $500 through their Healthy Home Makeover Pin it to win it Challenge.  I've started pinning to win already and you can too!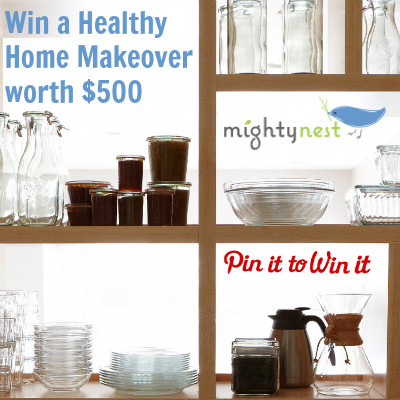 The giveaway is pretty simple really.  You just repin your favorite items from MightyNest's "Healthy Home Makeover" board onto your own Healthy Home Makeover board.  There are things for every room in the house and even a good amount of cute baby toys.  Trust me, once you start pinning it will be hard to stop.
That's it though!  Just pin and you're in.  For more information go here and check the rules on the specifics.
Here are the other ways you can connect with MightyNest!
Connect with MightyNest:
Enter the $500 GIVEAWAY:
Enter the MightyNest $500 Healthy Home Makeover Giveaway!
Disclosure: A gift card is being provided by MightyNest for my time in sharing this giveaway. All opinions are my own.