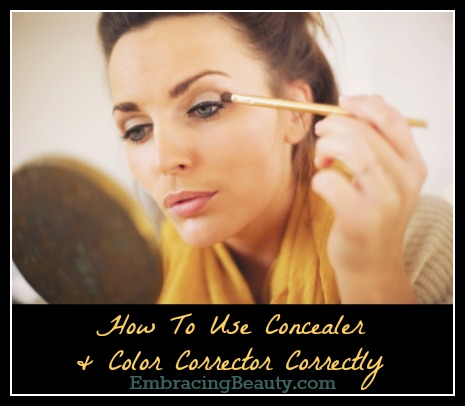 Most of us have some type of under eye issues. The most common problems include bags or dark circles under the eyes. Contrary to popular belief, these 'dark circles' are not always black or brown in color, although this can certainly be the case. Some 'dark circles' can be blue, red, pinkish, or even purple in color. It usually depends on your skin tone, and just how long you have been without sleep or have been really stressed out. But what do you do about these problems? How can you fix them so you don't look like a zombie? The answer is simple. You use concealer and color corrector. Today we are going to show you how you can use either of these nifty tools correctly.
Color Corrector
Before you begin, you need to know just a few things about the color basics. First, the color green will neutralize red, so people who have a lot of redness on their face should use a green corrector before adding their foundation or concealer. Lighter skin tones will be the ones who benefit the most with these types of correctors. Darker skin tones have hyper-pigmentation and discoloration. They need oranges and bisques. Sallow skin will need a lavender or lilac type of corrector to brighten the skin.
Remember that darker skin tones will need darker tones, and lighter skin tones need lighter tones. It's very simple. A little bit of trial and error will show you what the exact perfect shade for you is.
Using a color corrector is actually very simple. Simply apply a dab of the corrector on your skin- in this case, beneath the eyes, and rub in. Make sure you rub it in completely so that you don't come out with a fake, caked on look. That's it! Done!
When looking for a concealer, you need to find one that matches your natural skin tone- just like if you were searching for foundation or powder. A concealer should work to 'conceal' your blemishes and dark circles so that your skin appears even, smooth, and youthful looking. It should not look caked on, overly tan, super pale, etc. Remember that natural is beautiful, so pick a color that works best with your skin tone- whether that be light or dark.
You use concealer just like color corrector. Apply a bit to the area where you need it, and rub it in. It's actually very simple to use, it's the part about finding the right shade that tends to be so difficult.
Proper Way To Apply
There is a set order when applying your face makeups, and if you do not adhere to this strict order, you will not be able to come up with the natural looking desired results. So, for your convenience, we have listed them out in the correct order so that you can be sure to achieve that perfect look you have been trying to hard to get.
1 Color Corrector
2 Concealer
3 Foundation
4 Powder
5 Bronzer (if using)
6 Blush (if using)
You do not have to feel as though you must use all six face makeups. Some people will only be using foundation and powder, while others may actually be using all six. It all depends on your personal preference, and the look you are trying to achieve.
I hope that you found this to be insightful, and that you now understand how to get rid of those dark circles under your eyes…the correct way. Have something to tell us? Do you have tips or tricks, or a favorite product you like using? Let us know all about it in the comments below! We can't wait to hear what you have to say!
Author Bio: Amanda is a skincare fanatic and the author of SkincareHQ.org which recently featured an article on The Best Foundation For Oily Skin. Aside from skincare, Amanda loves to travel and dreams of one day going to Italy. If you have any questions or comments for Amanda, feel free to reach out to her @Skincare_HQ on Twitter!