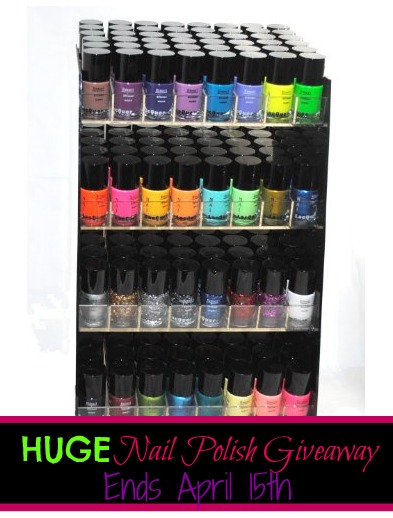 Spring has officially sprung!  However, if you live in a place like me you aren't exactly seeing the trees blossom and hearing the birds sing just yet.  In order to help get us in the mood for spring I'm hosting a HUGE nail polish giveaway!  These fun colors will help boost your spirits and get your toes ready for sandal weather.  This giveaway will last for a few weeks and then it will end on the most dreaded day of the year.  That's right, April 15th.  There will only be one winner but hopefully it will make someone's April 15th fabulous.  Even if you don't win, this gorgeous 35 piece nail polish set is very affordable so you might just want to order your own set.
What we're giving away:
A 32 piece set of vibrant nail color.  0.34 oz each.  This set contains glitter, metallic, & neon shades!
3 scented nail polish remover pads.
Why:
We love you!  That's right, you!  Our readers are what keeps us doing what we're doing day in and day out here in the blogosphere and we want to take a moment and say thank you!  We truly appreciate you.
How to enter:
Enter via the Rafflecopter below.  This giveaway is open to those who have a US shipping address or anyone who is okay receiving an Amazon gift card worth equal value.  If you have any questions feel free to contact me.  Good luck!