Welcome to our Conscious Box Giveaway!
This giveaway is sponsored by Conscious Box and hosted by With a Side of Thriftiness and, co-hosted by your's truly!
If you have not heard of Conscious Box yet, let me tell you a little about it.  It's "the monthly subscription service that delivers the purest, most natural products on the planet, right to you doorstep!" Conscious Box practices fair trade and offer products for everyone in the family. Each box is packed with a variety of Eco-friendly items! From vegan beauty products to organic food.  I'm mostly excited about trying their beauty products myself!   Each month subscribers get the opportunity to leave reviews on the products received. If you choose to do so you'll earn points for further discounts and eventually full-sized products.
Now that you're in the know, I am excited to reveal the prize up for grabs! The kind people behind the Conscious Box are giving away a 3 month Connscious Box subscription to one luck winner!  This 3 month subscription is worth $59.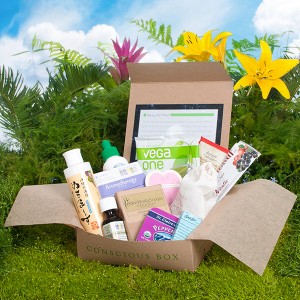 You will love the arrival of your Conscious Box. It's like Christmas morning every month! Who doesn't love receiving surprising gifts…Quality, surprise gifts?!
To help spread the word about this subscription service, the people behind Conscious Box are giving you a coupon code for 50% off any subscription!  Just use the code DISCOVERNATURAL when you subscribe.  If you've tried out this service before I would love to hear what you think of it.  I'm a big fan of Julep's Maven boxes and I've enjoyed two of the GlossyBoxes I've received.  I would love to try this service myself and see how it compares.  If you have any insight, please share!
The giveaway will end at 11:59pm EST on 3/28/13! This giveaway is only for US residents 18+.
Good luck!!!