It's almost Spring here in North Carolina folks and I'm excited!  While we're still having a good number of cool and down right cold days, we've had enough a few really warm days to get me in the mood for springtime.  I'm not ready to put away our sweaters and coats yet but I am ready to shop for warmer clothes.  You never know when another heat wave will come, right?
I don't have to worry about shopping for new clothes for myself because I have enough clothes from last season to make due for now.  My husband is the same as me but our daughter is a different story.  She is growing like a weed!
Buying clothes for kids can sometimes be difficult.  You don't want to sacrifice quality for cost.  Kids will be kids and will wear out cheap clothes but paying top dollar for clothes seems crazy when they grow out of them so fast.  That usually means I shop the clearance racks at stores that have better made clothes.  While I like shopping and I enjoy doing this, I don't always want to leave my house to shop.  That's why I am excited to tell you about a new online kid's clothing store that is incredibly affordable with well made clothes!  I couldn't believe the prices!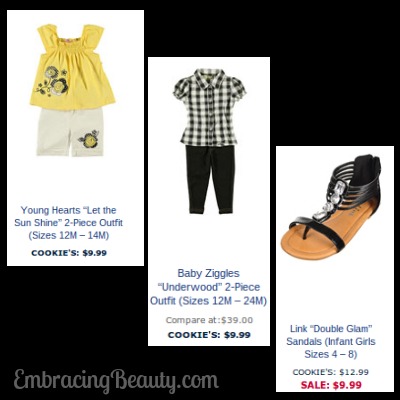 Together Cookie's Kids and Social Fabric gave me $30 to spend at Cookie's Kids so that I could review my shopping experience.  While I was excited about shopping at a new store I thought, "$30?  You've got to be kidding me? That won't be enough for an entire outfit."  Well, it was!  $30 bought two outfits and a pair of shoes!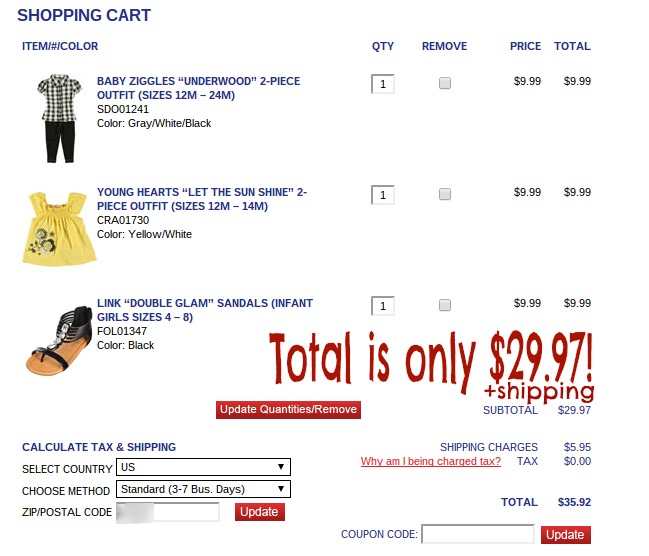 Cookie's Kids has an easy to navigate site, great prices, and brand name clothes.  Yep, you read that right, brand name clothes!  Carter's, Ralph Lauren, & Young Hearts just to name a few.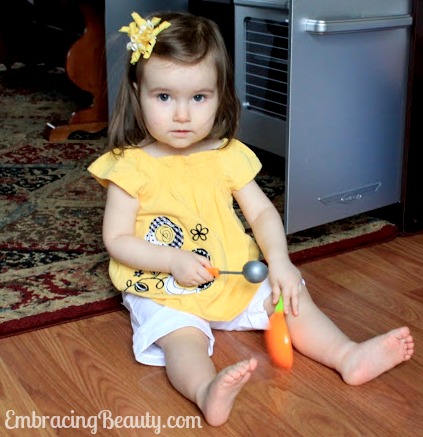 I bought two outfits that I thought would be perfect to interchange with each other and a pair of shoes to match them both.  I bought the shoes in a bigger size than she wears right now so she can enjoy them in both Spring and Summer.  I was excited for her to try these on and I'm very pleased that they look just like I thought they would!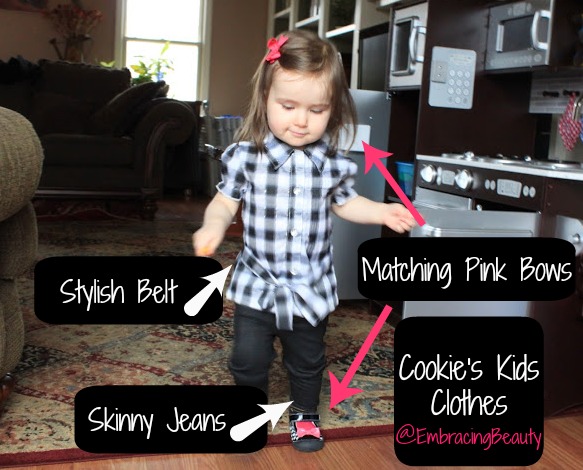 Isn't she stylish?  This is the first time she's tried on skinny jeans but I think she wears them well!  I love all the detail on these outfits.  This one has plastic rhinestone buttons and a cute front tied belt.  The other outfit has embroidered designs and a belt to match.  You can't see the belt in the picture above but go to my Cookie's Kids Google+ album to view that and more!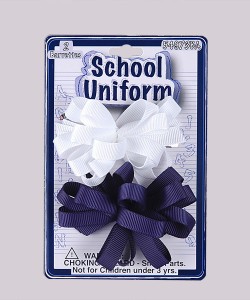 Are you ready to get shopping and see what deals you can find?  Cookie's Kids also has adorable Girl's Dresses, Boys Suits, and School Uniforms.
Follow Cookie's Kids on Twitter and follow Cookie's Kids on Facebook so you'll never miss out on a promotion.
Happy Shopping!
I am a member of the Collective Bias™ Social Fabric® Community.  This shop has been compensated as part of a social shopper insights study for Collective Bias™ and CookiesKids.com #CBias #SocialFabric. All opinions are my own!