Painted nails are becoming the new trend fast!  Okay, not just pained nails but nails that have lavish designs on them.  I have to tell you that the little girl in me loves this!  I use to love painting designs on my nails and I would spend forever playing around with nail polish bottles and toothpicks.  I'm sick at the moment and I don't feel like doing much of anything but I figured that painting my nails wouldn't take to much effort and how hard could it be, right?  Wrong.  I don't have the steady hand that I use to and this is going to take a little practice if it's ever going to look good.  Okay, here are my nails.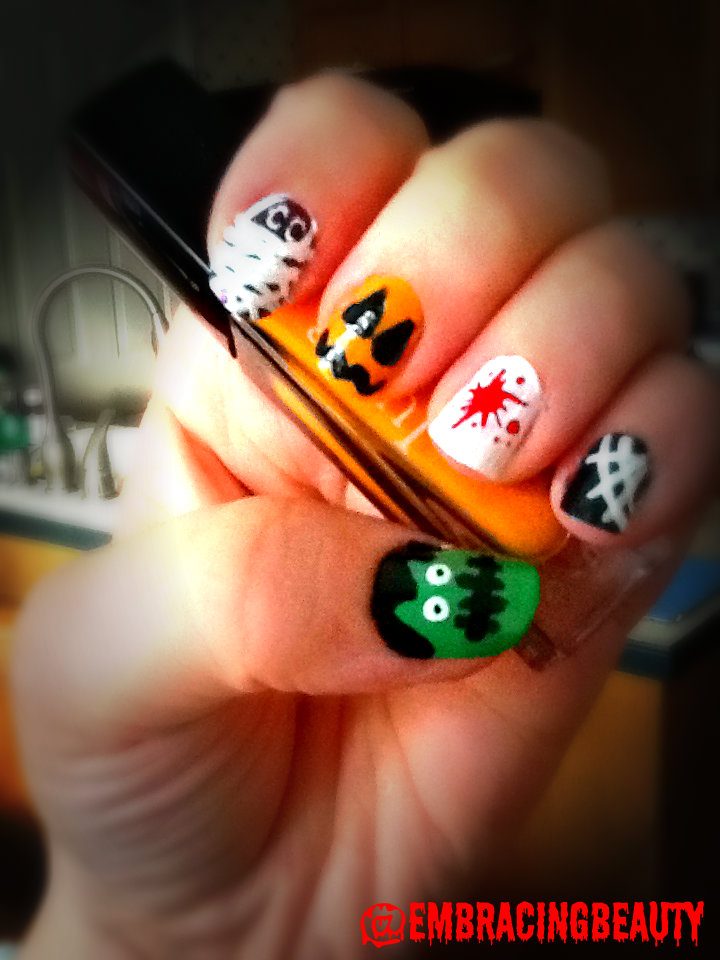 What do you think?  Halloween Nail Fail?  I'm thinking so.  I had such high hopes for Frankenstein too!  The blood splatter, although very gross, seems to have potential.  I mistakenly thought the pumpkin would be the easiest one.  The mummy and spider web were easy although not so attractive.
What about you?  Have you embraced this new nail trend or are you letting it pass you by?  I'm may be down but I'm not out yet.  I'm going to give this another go next week.  Keep an eye out here for some amazingly awesome nail designs!  Hopefully, awesome.  That's not a promise.