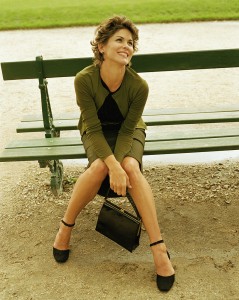 Choosing Fashions that Complement Mature Women

All women have the ability to enhance their natural beauty as they age by choosing appropriate beauty products and selecting flattering styles. Clothing that is fashionable and form fitting creates a confident and becoming appearance. Tasteful hair and makeup styles that are subtle yet flattering create a youthful look that is appropriate for mature women.
The key to maintaining appeal throughout the years is to evaluate your favorite features and make careful choices that always make you feel good about yourself. Stick to your best colors and make changes gradually.
Fashion Statements that Flatter
An absolute first requirement when choosing clothes is to ensure that they fit properly. Tight jeans may look great on a slim figure, but too often they draw unwanted attention to the wrong places. Wearing overly loose clothing isn't the answer either. There's no reason to wear a pair of baggy pants and an old sweater that may give off an unattractive and sloppy appearance.
If you need to cover up the hips, try putting a fashionable blouse or tunic over a pair of leggings, and make sure that the top fits well in the arms, bust and shoulders. For women who want to draw attention away from their upper body, a pair of slimming pants and some colorful sandals will inspire compliments and improve your self esteem. Accessories can do a lot to help disguise flaws and add pizzazz to an outfit. Scarves, for example, can be tied at the neck or waistline, and add softness and color. Focal point jewelry, either a statement necklace or stunning earrings, add a young-looking touch and help lift the spirits. Older women often look best with bolder jewelry, particularly when the pieces complement eye color or complexion tones. Hair Styles and Makeup for Mature Women
As we age, we should emphasize our best features. Applying subtle colors rather than bold shades often softens lines, and creates a more cohesive overall look. Experimenting with a new shade of lipstick or adding sparkling eye shadow is fine, but the color palette should always blend. A fun, fashion hairpiece from stores like VogueWigs.com can help enhance facial features while offering a classic style.
Performing a periodic reevaluation of clothing and hair styles helps you stay in touch with current trends. Adding a single new piece may be all it takes to feel uplifted and in style. Well-fitting clothes and neat hairstyles can promote confidence for the long term.