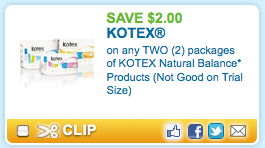 There are HOT new Kotex coupons available:
$2/2 packages of U by KOTEX® products
$2/2 packages KOTEX Natural Balance products
Target and Walmart usually have the small package of Natural Balance liners (16 or 18 count?) priced at around $1 which would make them free after this coupon!
You can print even more Kotex coupons here.