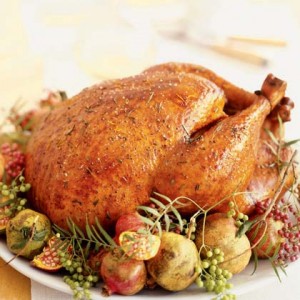 Aside from Thanksgiving, turkey doesn't get a whole lot of media coverage. Most people look forward to filling their bellies with tender, moist turkey and stuffing (or dressing) on Turkey Day. But once the holiday is over, they are typically 'turkeyed' out. The thought of preparing another turkey months later or, worse, creating new twists on leftover turkey can seem almost unbearable. The trick, however, to eating turkey throughout the year is simple: transform it into irresistible turkey recipes.
If you're looking for ways to turn ordinary turkey into something that makes your taste buds melt, check out the following turkey recipes. Whether you use leftover turkey or the deli cuts, you'll be amazed what can be done to the traditional turkey sandwich. From avocado and cranberries, to artichoke hearts and green olives, to fresh basil and spinach, there are all sorts of creative ways to spruce up turkey.
1) Santa Fe Turkey Sandwich
Servings: 1
Ingredients
2 slices whole grain bread, toasted
1 Tbsp. Kraft chipotle-flavored reduced-fat mayonnaise
6 slices deli turkey breast
1 slice Colby Jack cheese
1/4 avocado, thinly sliced
1 lettuce leaf
1 thin red onion slice
Directions
Spread toast slices with mayonnaise.
Fill with remaining ingredients.
2) Leftover Turkey Sandwich
Servings: 4
Ingredients
1 round bread loaf (1 lb.)
1/4 cup mayonnaise
1/2 cup dried cranberries
1/2 lb. leftover cooked turkey breast, sliced
1 cup shredded mozzarella cheese
1/4 cup thinly sliced onions
2 cups lightly packed baby spinach leaves
Directions
Heat oven to 400°F.
Cut 1/2-inch-thick slice off top of bread loaf; set aside. Remove center of loaf, leaving 1/2-inch-
thick shell. Reserve removed bread for making croutons or another use.
Spread inside of bread shell with mayo. Fill with layers of remaining ingredients; cover with top
of bread. Wrap in foil.
Bake 30 minutes or until sandwich is heated through and cheese is melted. Let stand 10
minutes before cutting to serve.
3) Tuscan Turkey Wrap
Servings: 2
Ingredients
2 whole wheat tortillas (8 inch)
2 Tbsp. cream cheese
12 slices deli turkey breast
1/2 cup thinly sliced cucumbers
1 carrot, shredded
2 Tbsp. Shredded Italian Cheese Blend
2 Tbsp. Kraft Tuscan House Italian Dressing and Marinade
Directions
Spread tortillas with cream cheese.
Top with remaining ingredients; roll up.
4) Turkey and Vegetable Focaccia Sandwich
Servings: 8
Ingredients
1 can (14 oz.) artichoke hearts, drained, coarsely chopped
1 red pepper, chopped
1 cucumber, chopped (about 3/4 cup)
1/3 cup stuffed green olives, chopped
1/3 cup Kraft Tuscan House Italian Dressing and Marinade
1 focaccia bread (10 inch), split
2 pkgs. Hillshire Farm Oven-Roasted Turkey Breast
5 mozzarella cheese slices
Directions
Combine first 5 ingredients.
Fill bread halves with layers of half the turkey, vegetable mixture, remaining turkey and cheese.
5) Turkey Bruschetta Panini
Servings: 1
Ingredients
2 slices Italian bread
4 slices deli turkey breast
1 slice mozzarella cheese slice
2 fresh basil leaves
2 thin tomato slices
1 Tbsp. mayonnaise
Directions
Heat panini grill.
Fill bread slices with turkey, cheese, basil and tomatoes.
Spread outside of sandwich with mayo.
Grill 3 minutes or until golden brown.