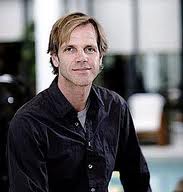 I am so excited to share with you an interview I had with a TOP hair colorist!  
Johnathan Gale is
 a colorist at 
Serge Normant at John Frieda Salon in LA.  
He was even voted US Magazine Hair Colorist of the Year!  Johnathan Gale is a master of the art of hair coloring.  He has had a successful career in both the UK and the US that includes high fashion editorials, high publicity advertising and celebrity clients.  Johnathan has worked on advertising for Versace, L'Oreal, Calvin Klein, and Prada.  He works with the likes of Charlize Theron, Diane Keaton, Keri Russell, Ben Stiller, Brad Pitt, Meg Ryan and Jennifer Garner.  How incredible is it that he took time to have an interview exclusively for you?
1. What is a day in the life of Jonathan Gale like?
I am a morning person. The sun rises, the light shows up and I'm ready for action. I have a lot of well-being intentions I start with when I wake. I sleep really well and like to remind myself to be of service and of deep gratitude for this life.
I love to walk often and hike in Runyon Canyon. I also like to just walk in my neighborhood then go work out at the gym.  Stretching is key I have found.
I like to start work early. I am at the salon by 8:30am just as the staff begins laying flowers atop the pool within the Serge Normant at John Frieda Salon. I'm big on breakfast and begin thinking about lunch as soon as I'm done. If I'm en route to the airport or going to be on set or at the salon, I'm always looking for healthy food, juices and treats. I find that if I eat right, I'll have energy for days.
I work in the salon four days a week. My first appointment might be with Debi Mazar, following by an afternoon with Amber Valetta. By the time Jennifer Love Hewitt or Ellen Pompeo comes in, the salon is really busy. All the actresses know each other, it's a lot of fun and it almost feels as if I'm on a set.
Because it's award season, it's a particularly busy time of year because everyone is making sure they look their best for walking the red carpet.
I also spend a lot of time in communication with directors, making sure the characters these actresses are playing are going to be expressed correctly on screen.
I like to cram a lot into my days right now. I'm learning to play guitar and spending time with a composer, creating some joyful meditation music which is so much fun. I study well-being and am constantly learning how to express, create and play. My clients benefit from my playfulness.
All of this is what makes my days and my career so much fun.
2. How did your career begin in the world of beauty?
My career began at home, from my sister to all the neighbors on the street. From the age of 14, I was captivated by transforming the people around me. My first job in hair was at when I was 18 years old as an apprentice for Daniel Galvin and Jo Hansford in London Mayfair.
3. As one of the top color artists in the business, are there any celebrities whom you would still like to work with that you haven't as of yet?
Madonna. I have some great ideas for her. I also really enjoy working with artists, so there are plenty people I would love the opportunity to create with.
4. What are some common hair mistakes that women make?
In my opinion, the biggest mistake women make is going too light. They just decide they're bored with their color, decide to be another color and don't take into consideration their eyebrow tone, their skin tone, eye color, eye setting, etc.
Instead, I like to make sure they get what they want by still achieving that light "feeling" without doing the standard light all over coloring. I take an artist's approach. I like exotic features, therefore I like to enhance these modalities. Instead of changing someone, I like to take someone's authenticity and just "bump it up a bit."
5.  What are your top suggestions for treating damaged hair?
The first thing you must do when treating damage hair is deal with the water you're washing with. Buy a filter for your shower–your health will benefit also. This will help remove the harsh chemicals from your water and keep your hair in amazing shape.
The other suggestion for treating damaged hair is the realization that is takes a lot of effort. There is a myriad of products out there…get and use whatever you can find. Use them twice a week, be consistent, and your hair will benefit.
6.  What do you suggest Embracing Beauty readers do to achieve the perfect frizz-free look everyday?
I love John Frieda's arsenal of anti-frizz products. I also love Rene Furterer's Fioravanti leave in detangler.