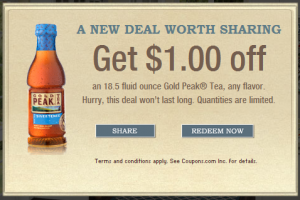 I'm not a big tea drinker, I'm warming up to it!  I love hot tea but it's taking a little longer to come around to ice tea.  I have a nice deal for all the ice tea fans out there.   Some Rite Aids have the 18.5 oz Gold Peak Tea on sale for just $1 this week.  If yours doesn't have the sale right now hold on to this coupon because Gold Peak goes on sale often at a number of different stores!  Go now and print your Gold Peak Tea coupon from Gold Peak's Facebook page to possibly get a tea for free!
Rite Aid scenario:
Gold Peak Tea, 18.5 oz – $1 On Sale
Use $1.00/1 – Gold Peak Tea *facebook*
Free after coupon!
Please vote for Ashley in the Cheap Sally Bring Home the Bacon Contest at.  Only takes a second and you can vote every day. Thank you!!! http://www.cheapsally.com/profile/ashley-walkup/