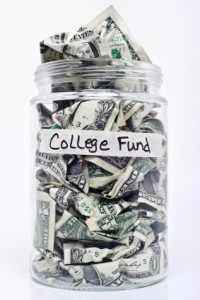 Sign up with Upromise and start saving for college today!
With the cost of everything on the rise, many parents are at a loss these days as to how they can realistically save for their children's college.  Since you are visiting this website, you are probably already aware of the savings extreme couponing can bring. Now that you have that area under control, maybe it is time for you to take a look at saving for college.
Upromise is a tried and true program that helps you save for college as you buy the purchases you normally buy, like  gas, going out to eat and online purchases.  You earn a percentage of each qualified purchase and that total goes into your Upromise account.   I've used Upromise since 2009 and I've saved hundreds!  Here are simple instructions to help you start maximizing your savings with Upromise today!
1. This program is for everyone:
Don't have kids yet? No problem. If you are planning on kids in the future you can start saving now. It doesn't cost a thing and the little savings you make today will add up for tomorrow.
Don't have a kid or plan on having kids?  No problem.  You can use Upromise too!
Don't have kids but still have your own student loan with Sallie Mae hanging around? This program is for you. Upromise savings can be applied to your current Sallie Mae student loan balance!
Don't have kids but want to help your family members? Have grandchildren, godchildren, nieces, or nephews? Upromise allows you to use the savings you acquire toward someone else's college costs.  The recipient would be appreciative and you can have access to money-saving coupon codes.
2. How it works:
Once you have an account set up, link your current savings cards (CVS, Kroger, Winn-Dixie, etc.) to your account by entering the number on the back of the card.  Readers tip (Thank you Amy!): If you shop at Publix, simply go the customer service counter to request your Upromise savings card. Link this number to your Upromise account as you would your other store cards and have your checkout person swipe it when you shop at Publix. Simple!
Go to Upromise's home page and click the coupons & deals tab.  From there you can add coupons directly to your store savings cards. These coupons do not take the value off of the items you buy but for each item you buy, the value of the coupon goes directly into your Upromise account! Coupons change every month so come back regularly to add new coupons.
Shop online with Upromise!  When you're shopping online, go and click through Upromise, you'll earn money that is deposited into your Upromise account.  If you are familiar with ShopAtHome.com or Ebates, Upromise works the same way. There is even a downloadable TurboSaver toolbar app that adds savings for online purchases without having to click through Upromise. The cash back percentage is different for each store but can go as high as 25%!
Take advantage of the preferred diner program. It is free and is easy to sign up for. This program lets you save up to 8% of your total dining bill which includes taxes and tip! These savings are added to your Upromise account.
They also have a MasterCard that…blah blah blah, you know I hate credit cards so we'll just skip over this part!
3. How to get your money:
You can invest your savings into a high-yield savings account with Sallie Mae.  This lets the free money you are already earning become even more free money! Plus Upromise will match 10% of your annual savings in your high-yield savings account! Woohoo!  More free money for college!
You can choose to invest in a tax-deferred 529 plan (only available in certain states).
You can put the money towards paying down your current student loan.
You can invest your money into a high-yield savings account.
You can also request a check and do whatever you want with it!  This is a new edition to the program and I think it will be a popular option for cash-strapped families.
Don't forget that family members or friends can sign up and link to your account so that their savings are going to fund your child's college.  It's simple to add their store savings cards and they'll be earning for you without lifting a finger.  Even though you know grandma would do anything to help send her little darling to college!
The Upromise website has a wealth of free college savings information that you can read up.  Check it out, sign up for Upromise today, and see how easy it is to save!