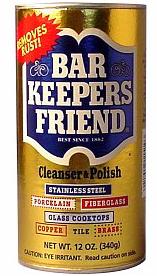 $0.55/1 – Bar Keepers Friend Cleanser
Available under zip code 90210
I LOVE Bar Keepers Friend Cleaner! It works wonders on cleaning sinks, tubs, counters, stainless steel pots and pans. When I first fell in love with it I could only find it at select locations for over $6 but now you can find Bar Keepers Friend at Walmart for $1.74!  Combine that already low cost with this $0.55 Bar Keepers Friend Coupon and you'll get a great deal!

Please note: The coupons states available at Target, Lowe's, and Bed Bath and Beyond. That is merely a suggestion as to where you can find it. This coupon can be used at ANY store that accepts coupons!
Bar Keepers Friend Cleanser $1.74
Use $0.55/1 – Bar Keepers Friend Cleanser
$1.19