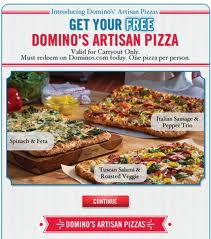 Would you like a free Artisan Pizza from Domino's? Of course who wouldn't!  Head over to Domino's Facebook page and "like" them! Then click on the "New Artisan Pizza" tab to receive a free pizza!
If they are already gone today by the time you read this try back tomorrow and every day through 9/28.
This deal is good for carryout only and must be redeemed on dominos.com the same day you receive the freebie.