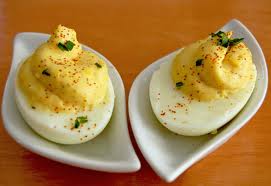 Deviled eggs don't have to be such a chore thanks to this tip from Marge!  Save yourself some work by filling a zip-lock bag with all your cooked egg yolks.  Seal the bag, and mash the yellows until broken and smooth.  Open the bag to add all of your seasoning and other ingredients. Reseal, and keep mashing to mix everything thoroughly. Now turn your bag into a pastry bag by cutting off one bottom corner. Center this opening over the round space in each egg-white and squeeze out a nice shape until full. Then throw away the (mostly) empty bag when you're finished for easy clean up!
Image Credit: MenuForLove
To make the deviled eggs pictured above use MenuForLove's Truffle Oil Deviled Eggs recipe.
If you have a tip you would like to submit  you can email me here.