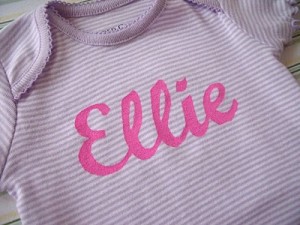 I've recently been introduced to a simple way to stencil baby onesies!  Gabriel's Good Tidings will take you step by step to get the look you want.  This  seems like a fun and inexpensive gift for yourself or for someone else!
I can't wait to give it a try but I plan on using my Cricut to cut out the stencil  for me so I don't have to do it by hand.  If you have a friend who owns a Cricut or a similar device I would recommend asking them to cut out your design for you to save you time.
Thanks, Money Saving Mom for sharing this super cute and frugal idea!