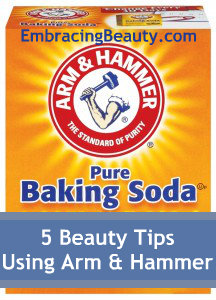 When I think of uses for Arm & Hammer baking soda I usually only think of two things, a box sitting in my fridge to deodorizing it and chocolate chip cookies.  When Mom Central asked if I would like to join their Arm & Hammer blog tour I was overwhelmingly excited!  If you know me, you know that I love to find new uses for every day products and I never knew that there are so many uses for baking soda.  I am going to share with you what I have learned and I think you will find a new love for baking soda too!
Uses I already knew that baking soda was great for:
Treatment for insect bites
Make a paste of baking soda and water and apply this natural salve to the affected area.
Remove natural oil build-up and hair product residue by soaking hair brushes in a mixture 1 tbs of baking soda in a small sink full of warm water.  Rinse and allow to dry.
I learned this mixture when I was pregnant and afraid of the harmful fumes of regular products.  For light cleaning, sprinkle water and baking soda and scrub with a damp sponge.  For extra cleaning umph make a paste of baking soda, coarse salt, and dish liquid soap.  Let the mixture set on your dirty surface for a few minutes then scour off.
Sprinkle baking soda under arms to absorb odors and feel fresh.
Beauty treatment ideas for baking soda:
Mix 3 parts baking soda with 1 part water (1 part oatmeal is optional).  Cleanse skin as usual followed by this gentle scrub.  As with all scrubs be sure to avoid the eye area.  Rinse with warm water.
Dip brush in baking soda and scrub nails and cuticles.  Make a paste of 3 parts baking soda to 1 part water.  Rub in a gentle circular motion over hands and fingers to exfoliate and relax.  Rinse clean with warm water and apply polish as usual.
Dissolve 3 tbs of baking soda in a basin of warm water and soak feet (a drop or two of lavender or your sent of choice is nice too).  Gently scrub tired feet with a paste of baking soda, water, and brown sugar for smooth feet.  Towel dry and apply a rich moisturizer and cotton socks for ultimate softness.
For a relaxing bath experience, add 1/2 cup of baking soda to your bath.  This will neutralize acids on your skin and help wash away oil and perspiration.  You will feel refreshed and your skin will feel silky smooth.
I have to tell you that Arm & Hammer gave me a very nice gift basket!  It came with a box of Arm & Hammer, a shaker of Arm & Hammer, a glass tea cup, tea, a manicure set, nail polish, a head band, soft wash cloth, and a few other little goodies.  I loved trying out the foot soak and manicure for myself!
My husband will tell you that I adore and need beauty products…they are what I like to call "pamper me products."  They aren't items that are needed to get ready each morning but they are things that make me feel good about myself.  I can't go to the spa everyday, I choose not to spend money on manicures and pedicures but I like to feel good about the way I look.  I'm not alone, am I?  The time I spend taking a long bubble bath gives me the renewed energy and enthusiasm I need to keep up with life's daily tasks.  I am happy to now have a nice pamper-me-product without a large price tag.
Disclosure: I wrote this review while participating in a blog tour by Mom Central Consulting on behalf of Arm & Hammer and received a beauty basket to thank me for taking the time to participate.