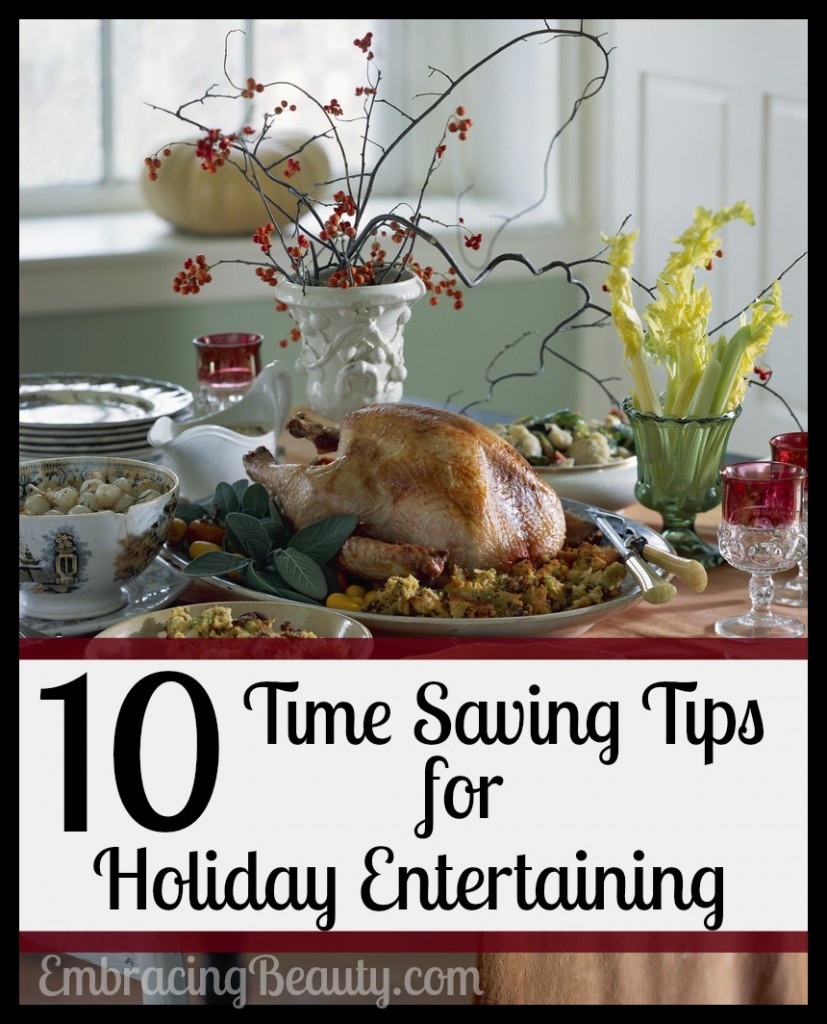 Here are my top ten time saving tips for holiday entertaining.  I hope they will help you save time and make your holidays more enjoyable!
10.) Set your table the day before your party.  This is a huge time saver and you'll now have more time to get ready and relax yourself.  Remember it's you that ultimately sets the mood for your party.
9.) Avoid making multiple last-minute grocery trips by stocking up on cooking and baking ingredients early.
8.) Make ahead meals are great for holiday parties.  There is less mess involved for clean up and you won't be stuck in the kitchen cooking during the party.
7.) Buy a pie instead of making one.  I know some of you are gasping at this but Mrs. Smith's pies are hard to beat (and a LOT quicker)!
6.) With a little creativity you can mix homemade and store-bought foods to save a ton of time.
5.) Assign a teen or tween to the door to greet and gather coats as they come.  Have them take the coats to a pre-cleaned out closet or to lay gently on a bed.
4.) Let guests who want to help do so.  They will feel good that they could contribute and that is one less side dish or dessert that you'll have to fix.
3.) The night before the party lay out each serving dish with it's appropriate utensils and label what does in it.  The labels will be a great asset to your party volunteers and will allow you to focus on more important things.
2.) Clear dishes and load them in the dishwasher as you go.  This will save you from an enormous pile later on.
1.) Avoid the late night gift wrapping crunch by wrapping gifts soon after you buy them.  If you don't have time to immediately decorate the packages with ribbon and bows label the gifts with sticky notes.
Do you have any time saving tips that you swear by?